Townley Hall Bimble

Beez Neez now Chy Whella
Big Bear and Pepe Millard
Mon 3 Apr 2017 22:57
Townley Hall Bimble with Vicks and a Tribe
We took Kaiser in our car and Vick loaded Harley, Harry, Emmie, Sarah from next door and her two nieces. Just a minute drive away and we were on a sweeping road up to a once-country-seat called Townley Hall. We parked and set out to bimble the grounds. Harley didn't want to smile for a picture – so I sat on him and then pulled his cap down.
The formal gardens were superb.
As we rounded the house........
.............some very lovely bottoms came into view.
Better have a closer look.
A grand home of yesteryear.
Townley Hall
Townley Hall and sixty-two acres of land were sold by Lady O'Hagan (Alice Mary Townley) in 1901, to be used by the people of Burnley. The park opened in 1902 and the hall in 1903. The sundial on the southern buttress of the hall commemorates that, in the 1660's Richard Townley set up a weather station at Townley.
The Stables Cafe. In the former coach house, was established in 1903, with the cafe refurbished in 1951, and a verandah added when the stables in front of it were demolished. The fire escape was added in 1976 to allow private functions to take place on the first floor. During HLF improvements to the park (2005–2010), the verandah became a conservatory.
Following World War I the War Memorial was bequeathed by Caleb Thornber, while the Garden of Remembrance was provided by the people of Burnley at a cost of one thousand, one hundred and fifty four pounds, nine shillings and nineteen old pennies, including crazy paving, and the reflective pool.
In 1929, the servants quarters attached to the hall, were finally demolished and the stones from them used to build three cottages in the woodland along the Causeway. 2001-2002 saw a new block built on the footprint of the servants quarters, including a shop, toilets and offices.
Although no plans or records exist for the Ice House, it may have been built in the early 19th century, about the time of Jeffrey Wyatt's improvements to the hall, under the direction of Peregrine Edward Townley. Leaving the hall along the Causeway it is found on the right hand side, hidden behind its own earth mound. It was made safe in 1963, with improved access in 1975, but it has become a bat roost and only people with special permits can now enter.
Time to bimble past the fountain and head down to the play park and have an ice cream.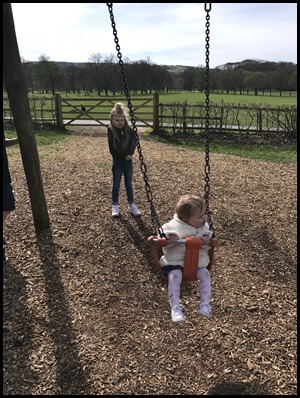 Vicks and Harley tried for the perfect picture of Emmie.
We watched the smile.
A happy little princess. Time to go home.
ALL IN ALL AN AMAZING OPEN SPACE SO CLOSE TO TOWN
A VERY NICE FAMILY OUTING
---