Sewing Canter

Beez Neez
Skipper and First Mate Millard (Big Bear and Pepe)
Mon 16 Feb 2015 23:57
A Gentle Canter on the Sewing Machine
Finally, no more excuses, out came the beast, saddled up, girth and stirrups checked, ready for a gentle start – a new anchor bag for Baby Beez, square and easy. Meanwhile - and what do we always say about naked flames on a boat...... my friend was causing a real stink. I'm replacing all the shock cords. You'll be shocked in a minute if you don't take that smell somewhere else. OK I'll go outside. Don't you let me hear you muttering as you scurry away............
..........and take the new anchor bag with you.
Next was the petrol can cover for Baby Beez. The first design job was a hole for the filler cap, zig-zag around the hole and the same for the fuel line.
Body next. Sew an eyebrow cover for the filler cap and fuel pipe. Add a yellow stripe, of course.
Off Bear went on a rubbish and water run – sporting the petrol can with its smart new cover.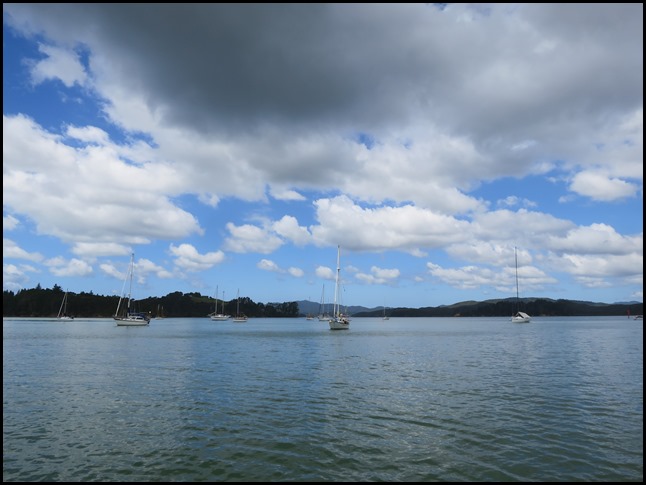 Looks like a nice afternoon out in Bay Beez as we call it.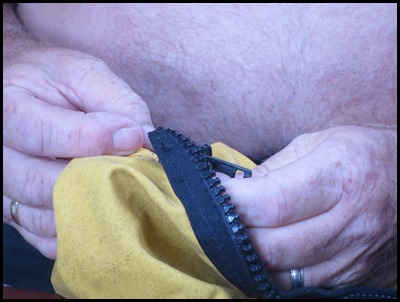 Meanwhile, back in the sweat-shop I become 'wellard Millard', pin what pin ??? Acupuncture ??? Bear came back and set to work at taking out an old zip. The trouble with salt is that it gets everywhere and causes all sorts of mischief. Metal zips suffer badly and have to be replaced every couple of years, despite Bear squirting zip lubricant oil on them regularly and whizzing them open and closed. This sewing session it was time to replace the blow up kayak bag and stay sail cover zips. Replacing the zipper slider on the spare dinghy bag – from metal to plastic. Then some quickie jobs, a split in a pair of Bears trousers, new elastic for my shorts and strap repairs to a dress.
Bear standing on a stool with his head in his potting shed – don't ask I didn't.
Beez looks like a she's been in a mixer.
ALL IN ALL A GENTLE START
AN INDUSTRIAL REVOLUTION HAS STARTED
.
---