To Mesanak Island

Beez Neez
Skipper and First Mate Millard (Big Bear and Pepe)
Thu 27 Oct 2016 22:57
To Mesanak Island
We woke at a leisurely time this morning and watched a local chap doing his best to return the dragged fishing platform back to whence it had come before the storm yesterday. After a spluttering start he did really well.
At seven o'clock we set off behind Tereva. Five of us decided to split the journey to Tanjung Pinang and head twenty six miles to Mesanak Island.
An hour later and the clear sky coloured the sea a pretty blue.
Half an hour later we saw a rain cloud doing its stuff.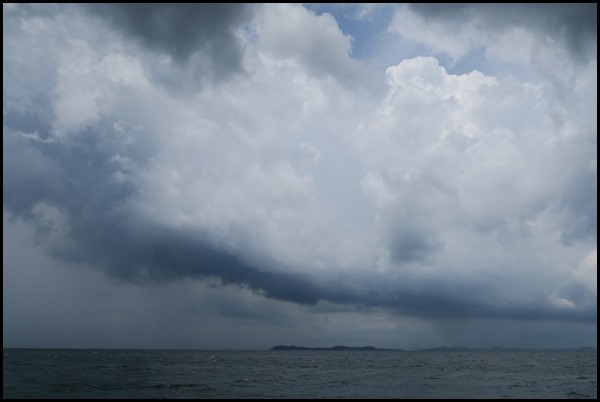 Things became very grey and off went the thunder.
Behind us Gallivant. Straight bottomed cloud above her.
All round the sky was messy, the wind picked up and the squall hit. The placid sea suddenly had ripples, visibility dropped. I needed a backgammon win as I've lost for three days on the trot. Marvellous. Huh, five two a good day. Growl. With the wind as it is just now, we could have left at five this morning and reached Tanjung Pinang – our final official stop in Indonesia but just as easily we could have had a current against us....... No way to predict.....
Thankfully things cleared up enough for us to see the wreck of fishing platform...............
...............and another.
A graveyard. No chance in the dark, it would be pure luck........
Gallivant gracefully passes but it shows how big these wrecks are.
In the middle of the anchorage a splendid shed and lots of birds. To the right a reef.
Jennie D settled for the night.
ALL IN ALL INCREDIBLY QUICK WEATHER CHANGES
GETTING EXCITED ABOUT CHANGING COUNTRY
---