To Shag Islet

Beez Neez
Skipper and First Mate Millard (Big Bear and Pepe)
Fri 10 Jun 2016 22:57
To Shag Islet – Off Gloucester Island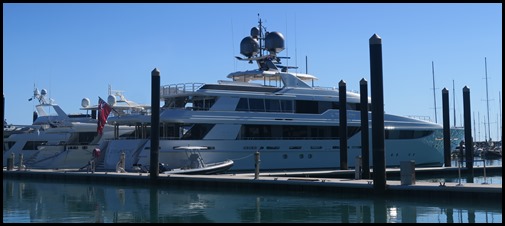 Sadly, it was time to leave Airlie Beach. First job was to fuel up, on number two pump as number one was stuck on $3000 dollars...... Chatting to the man trying to fix it, he told us of a super yacht that had to send a bilge-gas-monitor back to the UK for calibration at a cost of $3500 (on a ratio to Beez about $15........) Our fill up cost $174 but this lady only topped up for $30,000. Oh my.
We had to wait for our old friend Spank Me to come in before we waved at our slot, took the corner and headed out between the marker posts. Wind on the gauge – zero.

Flat-as-a-pancake blue water and sunshine, it doesn't get much nicer than this. Nearly an hour to get from 2.4 metres below to double figures.
Airlie Beach behind us, what a great week we had there.
Local cruisers are certainly lucky to have these views.
A couple of friends out for a spuddle.
Coming up to Armit Island, just one yacht at anchor. Between the islands depths over twenty metres.
The corner in the distance, and Gloucester Island in the far distance.
Dust floating as we go through tidal lulls.
The corner.
Around the corner Manta Bay and the anchorage of Shoal Bay.
The skinny but buoyed Gloucester Passage ahead.
The skipper was born in Gloucester, I thought it would be nice for him to notch up Gloucester Island - to tick an island as visited we have to go ashore. Would you like to visit and have a bimble I ask in my beloved. No thank you. But surely. No, no thank you and don't call me surely. Now I'm suspicious, why ever not I press. Cos all that's there are deathly adders, that's what I'm calling them from now on and several trees for them to hide in. I guess it's a no then. Absa-flipping-lutely. End of that conversation then......just Bear pointing is as close as we are going to get.
We go through more 'dust' as the water shallows to five metres below us.
In fact looking over our left shoulder we can see the lull.
Smiley chops just loves all this nonsense.
We have to turn sharp left after the next red and head to the parked catamaran.
Monty's Resort, a popular stop, water at it's lowest 2.4 metres below, at high tide.
We can now see our anchorage, by the furthest white boat, but first, a quick swing around Shag Islet – on the right.
Shag Islet.
Our final set of markers.
Round the last red and there we are.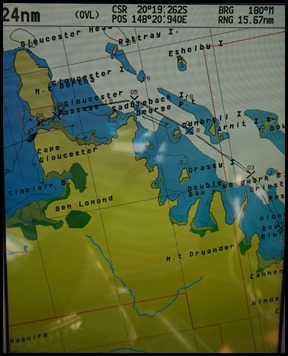 Today's twenty five mile journey.

Anchored tucked behind Shag Islet, Gloucester Island (home to the deathly adders) and the Gloucester Passage.
ALL IN ALL A LOVELY DAY
QUIET, SHORT MOTOR ON A DUCK POND
---