KL Tower Lunch

Beez Neez now Chy Whella
Big Bear and Pepe Millard
Sun 1 Jan 2017 23:57
New Year's Day Lunch at the Top of the KL Tower
The crystal dome in the middle of the lifts caught my attention even before we went to the top.
Fifty four seconds in the lift and there Bear was. Petronas Towers in view.
The KL Tower is the seventh tallest telecommunication tower in the world (after Tokyo Skytree in Japan, the Canton Tower in China, CN Tower in Canada, the Ostankino Tower in Russia, the Oriental Pearl Tower in China, and the Milad Tower in Iran). Built to enhance the quality of telecommunication services and the clarity of broadcasting, KL Tower is a symbol of Kuala Lumpur.
The structure is divided into five basic sections:
1. The foundation base houses three basement floors for safety purposes, storage and maintenance work.
2. The touristic building bears the administration office, souvenir shops and the 146 metres long pedestrian mall with cascading pools.
3. The tower shaft comprises 22 levels with four elevators and flights of stairs with a total of 2,058 steps.
4. The tower head holds the public observation platform (276 metres) and revolving restaurant, as well as the telecommunication and broadcasting stations.
5. The antenna mast crowns the tower and is utilised for telecommunication and broadcasting transmissions.
When constructing the KL Tower, the builders took special care to construct a retaining wall around a 100-year-old jelutong tree (Dyera costulata). The tower was moved at a cost of MYR 430,000 (GB 77,211.96) to avoid harming the monumental tree, which is found near the pedestrian mall.
KL Tower is managed by Menara Kuala Lumpur Sdn. Bhd., a wholly owned subsidiary of the Telekom Malaysia Group.
KL Tower is also the first pit-stop in The Amazing Race Asia 1 and fielded a route marker on the final leg of the same race.
Settled in the revolving restaurant for lunch. I asked chef on a wild hunch, with lots of hand signals and pointing to anything I could find that was green, to find me some sprouts and was delighted when he appeared with a dishful. Fridge cold, raw.......what was a girl to do, inspired - use the pasta boiler, hey presto, her man has his sprouts – firm it has to be said, but nonetheless an massive achievement. Awesome. The pictures that follow are us enjoying our lunch, the venue and the views as we slowly turned.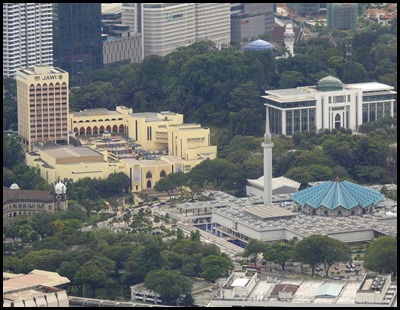 ALL IN ALL A SMASHING WAY TO START THE YEAR
WONDERFUL LUNCH WITH FANTASTIC VIEWS
---