Bits and Harry

Beez Neez
Skipper and First Mate Millard (Big Bear and Pepe)
Tue 28 Aug 2012 23:35
Bits and In Support of Prince Harry
Bear's boiled egg 'events' are fast becoming as popular as 'One Careful Owner' entries. This week saw no lowering in standards.
This week saw 'events' on the backgammon field. Rare and unique in fact. For the first time in my thirty six years of playing I blocked out my opponent, Bear had two on the bar and all the rest of his men in place...... Next up was Bear with all his men 'home' on the six point........Then I had only one man to get off, which was on the bar. Quite incredible.
I'm not to mention the 'state' of Beez – but needless to say if there was an emergency, I would have to climb out of the bedroom window. Bear showing off his mammoth, luncheon radish. He is doing a major overhaul of Beez engine. Yes, that is his hand in shot. At the time he was laying down in the office, I heard various 'squirty' noises and several words that rhymed with 'bucket' and 'bar steward'.
I have been cabbage patched behind my laptop, doing several jobs. I'm sure Bear is thinking up these jobs to keep me in the one position, out of the way and suspiciously he keeps plying me with drink, usually two at a time. I am forbidden to look in the sea berth toilet and the office is now out of bounds. He promises me all will be back to normal in two weeks..........See Beds fall about laughing at this point. Don't read any further on in this blog if you are on beta-blockers or of a nervous disposition.
The King's Hussars added their support for Prince Harry................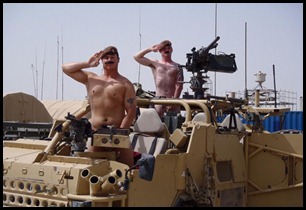 .......and so did many others, so when MOTH asked if Beez Neez would rise to the challenge.........
........of course her captain 'rose'. Her mistress, sadly, couldn't find a Sherman tank nearby to cover her bulk.
ALL IN ALL A 'STIFF' DRINK NECESSARY
---