Todays Spuddle

Beez Neez now Chy Whella
Big Bear and Pepe Millard
Thu 27 Aug 2015 22:57
Todays Spuddle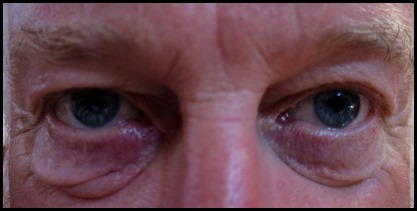 We arrived at the Blue Lagoon six days ago, I managed the meke, just, and then fell foul of the bug I was carrying. I retired to bed and stayed there until Bear got me on the Is It Blue spuddle. This morning Bear got up and his right eye was incredibly painful – I know when you look like a Pound Puppy it's difficult to tell – but the bags under the said right eye were much bigger than they should be. What you are saying is instead of being suitcase size it is removal trunk size............ Something like that. We ought to try and get a breath of fresh air, it's a beautiful day out. OK we'll try.
Bit of land firing going on on the island opposite.
We struggle into Baby Beez and head over to the reef in the middle. A handsome brown booby acts as sentinel.
The water was so clear.
We landed on
Matacawalevu Island but as the tide was going out and we didn't have the strength to get stranded, we set off again.
Bear manages a smile. As we get to our beach by Beez, I climb out, not knowing Bear was too – result, Baby Beez shot up in the air and gave the skipper pain in the nether region..........Let's just say I think I'll be singing soprano for a few days. Oops. We settled on our beach blanket, one of the resort dogs came over to say 'hello', sand everywhere. Sadly, he was covered in ticks. Next thing the alpha dog of the troop came over to assert his position but another one took this as a hackle up, attack. All hell broke loose. Tick covered was set upon by the newcomer and the alpha got stuck in as well. Snapping and snarling, blood and fur. The underdog squealing, managed to get into the water and after a few more bites from the other two, broke free and swam off. The other two stood, hackles up guarding the beach. The swimmer went all the way to the resort a couple of hundred yards away. Alpha, this time alone, trotted up and some sort of agreement was struck and all was well once more. A thoroughly horrid thing to see – with that we packed up and went home.
The ground firing looked effective at dusk. We sat and watched sunset and fell into bed. The only funny thing that happened today was at suppertime. Neither of us wanted anything sensible to eat, so yoghurt sounded easy. Now my favourite is forest fruits, dark like blackberry – summer fruits is a mango colour, a bit sweet and has a funny perfume. Idea. Mix half a packet of each and see what happens. Yesterday Bear took it upon himself to be in charge, he asked if he should do anything for accuracy sake, silly me told him that half a packet of each should be easy to guesstimate. Well, today he was sacked as yoghurt maker. I managed two spoonful's of the thickest gloop that was too thick to be used as wallpaper paste. Oops, I'll try and water it down. Time for bed methinks.
ALL IN ALL BACK TO SICK BAY
ACHING AND SNEEZING, I'M FOLLOWING
---