Pura Besakih Temple

Beez Neez now Chy Whella
Big Bear and Pepe Millard
Fri 16 Sep 2016 22:57
Pura Besakih Temple
Nia of LA Tours and our coordinator on Bali had told us not to visit the largest temple on Bali as its reputation for hawkers is fast becoming legendary, clearly our driver had other ideas because here we were. A quick haggle to get cheap sarongs to wear on the site we knew we didn't have to have a guide. We gave in our tickets and the chap tried his best to 'sell' us the need for a guide. Then the rat run........everyone was at it from young to old. "Where are you from" was an opening for the hard sell. "Your tickets were wrong you need to buy others". "You cannot enter without a guide" – by now we were simply annoyed, heads down and on we went.
This should have been a pleasant experience but it wasn't, so many had been duped and looked at us shrugging. Parts of the temple site were in good order, some were scruffy, some had litter, all had women trying to sell drinks and snacks – even they had learned their skills from the black widow spider. At the top were shops selling cheap tourist stuff including huge wooden and plastic phalluses, mating animals and beer bottle openers.....
A little description and some pictures.
Pura Besakih is a temple complex in the village of Besakih on the slopes of Mount Agung, eastern Bali. It is the most important, the largest and holiest temple of Hindu religion on the island, and one of a series of Balinese temples. Perched nearly a thousand meters up the side of Gunung Agung, it is an extensive complex of twenty three separate but related temples with the largest and most important being Pura Penataran Agung. The temple is built on six levels, terraced up the slope. The entrance is formed by a Candi Bentar (split gateway), and beyond it the Kori Agung is the gateway to the second courtyard.
The precise origins of the temple are not clear but it almost certainly dates from prehistoric times. The stone bases of Pura Penataran Agung and several other temples resemble megalithic stepped pyramids, which date back at least 2000 years. It was certainly used as a Hindu place of worship from 1284 when the first Javanese conquerors settled in Bali. By the 15th century, Besakih had become a state temple of the Gelgel dynasty.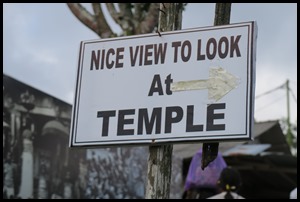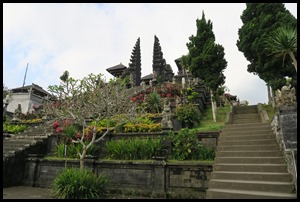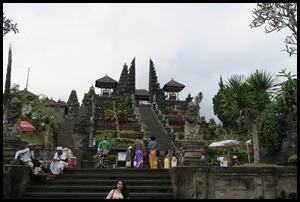 ALL IN ALL THE HAWKERS WERE A DISGRACE ON A SO CALLED 'HOLY' SITE
FULL OF TOURIST TAT LEAVING A BAD TASTE
---