Day 4 Arrival

Beez Neez
Skipper and First Mate Millard (Big Bear and Pepe)
Sat 24 Oct 2015 22:47
Day Four - Arrival in Anelghowhat Bay, Aneityum, Vanuatu
After lunch of carbonara, we settled to a fierce game of backgammon, I don't ever recall getting four of Bear's men on the bar on any sea journey. I don't believe it, in my best Victor Meldrew voice – I lost by a throw. I was bearing off and had an exposed man and you-know-who jumped me. He kept taking me off every time I got back on and by the time I got in, sneaky boy threw a couple of big doubles and game over. Yes, but as you beat me five one I feel no guilt. It was the cheek of it.........Had to chop off the sign Bear was giving me in the middle picture but it didn't mean anything 'cute'.......... After a few games of Rummikub it was rest time for you-know-who. A aura of calm once more on Beez. I settled to my shift with a good audiobook.
Just after four in the morning we were alongside Aneityum or Anatom as it is on our map, all I could see through a heavy sea mist was a darker grey area but nonetheless exciting.
Dawn was a very pretty pink. Through the mist I could now make out the island and this was the view Bear got up to at six, I hadn't called him, his internal clock had. In fact now we were so close to Vanuatu the clocks had gone back an hour, so in reality, he was an hour early for duty. I stayed up as we would be anchoring soon and carried on bringing us in to the shallower water while Bear went to get his bits ready, whatever that means. Do you know I have heard that every single time ten minutes before we anchor. I have never asked exactly what it is he does but it always entails a rummage in the anchor locker and he does it on his knees. The sun didn't so much as rise but just appeared behind Beez shrouded by clouds.
To our right we could see the surf not so much pounding, as swishing over the reef. In the centre, a small patch of land called Mystery Island, a real favourite on the cruise ship circuit, it has a tiny airstrip for those who want come for a day visit by air. Uninhabited and very South Pacific, we cannot wait to take a picnic and explore, after we have the local chiefs permission to do so of course.
We passed the reef, turned right, dropped the main sail and motored for nearly a mile before our final right turn into the massive expanse of Anelghowhat Bay. Mystery Island as seen to our right, too far off to make out the waves over the surrounding reef.
Anatom Island to our left, still very grey in the grey light of day. Half an hour later we watched a local boat off on an early fishing trip, as soon as they saw us big smiles and enthusiastic waves. We glided by the only yacht at anchor just as a turtle popped his head up in 'welcome'. We anchored in eight metres of water and that done, the morning took on a lovely blue. Now behind us, the other yacht looked quite alone once more.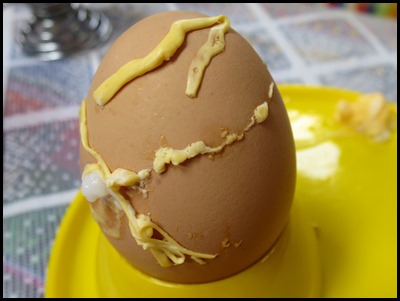 I did our position 'ping' on the sat phone, finished my cockpit jobs and Bear asked if I would like to get my head down or have boiled eggs first. Well, what is a girl to do but sit and fill in her log book and wait for eggs. Cup of tea, I really fancy a hot chocolate – hug in a mug. Well colour me happy, a modest egg event, a final reminder of Fiji – funnily enough we didn't have any events on our two weeks trip to Port Vila, so as soon as we buy new eggs here, we don't expect any until.... perhaps New Caledonia. My eggs were perfect and I started a new jar of Marmite..........I'm going to love it here.
Our journey of 477 nautical miles took ninety one hours and fifteen minutes. Average speed of five and a quarter knots. We had had a whole day, well twenty five hours without the engine – a bonus as we had thought to motor sail the whole way.
Position 20:14.31 South 169:46.78 East
ALL IN ALL A SMASHING JOURNEY
ONE OF THE MOST PLEASANT
---