Yankee Game

Beez Neez
Skipper and First Mate Millard (Big Bear and Pepe)
Wed 27 Jul 2011 18:26
Yankee Stadium, Game and a Few Players
We began our New York adventures with the fantastic Harlem Gospel Tour, the fitting end just had to be a game at the Yankees (both in the 1000 things to do before you die book). We went on their website, booked seats and off we went on the subway. We knew we were going the right way as we melted in with many fans rigged out in their 'uniforms'. As we emerged the crowds were awesome.
We quickly picked up our tickets, in we went, following the masses. Elevators, escalators, ramps and stairs efficiently moved the fans around - including the prepared with their buckets of chips.
Yankee Stadium is in the Bronx and serves as the home ballpark for the New York Yankees, replacing the previous stadium, built in 1923. The new ballpark was constructed across the street, north-northeast of the original, on the former site of Macombs Dam Park. The ballpark opened on the 2nd of April 2009, when the Yankees hosted a workout day in front of fans from the Bronx community. The first game at the new Yankee Stadium was a pre-season exhibition game against the Chicago Cubs played on the 3rd, which the Yankees won 7 - 4. The first regular season game was played on the 16th of April, a 10 - 2 Yankee loss to the Cleveland Indians. Today we saw them lose 9 – 2 to the Seattle Mariners. Bear was chuffed that mariners beat landlubbers.............
Much of the stadium incorporates design elements from the previous Yankee Stadium. Construction began in August 2006, spanning many years and facing many controversies, the stadium was built on what had been 24 acres of public parkland. Also controversial was the price tag of $2.3 billion, including $1.2 billion in taxpayer subsidies, it was the third most expensive stadium after Wembley Stadium and New Meadowlands Stadium in East Rutherford, New Jersey.
Since we have been here Bear has wound up many a New Yorker by saying - In England women play and it's called Rounders, you'd never see a man anywhere near the game. To which I slip in with a cute comment to dispel the now testosterone fuelled air. Today it was great somehow to be in a crowd of cheering fans with absolutely no idea what was going on. I did enjoy the warm up and we both agreed we wish we could still get our legs up that high.
Logo: Originally called the Highlanders – due to the elevation of their first stadium, their logo was variations of a stylised N and Y, which lay separately on either side of their jersey's breast. In 1905, the two locked for one season, but not in the way used today. It wasn't until 1909 that the team changed to the familiar interlocking NY (originally designed by Tiffany & Co. in 1877), an insignia that would become the famous New York Yankees "NY" logo was struck on a medal of honor by Tiffany & Co. and issued to the first NYC police officer shot in the line of duty. The Yankees adopted the logo in 1909, still worn today. We were on the 'third floor', all around the stadium were merchandise stalls and shops. The famous nylon shirt was $110, we saw many sweating in the crowd on this very hot day. You can order actual stadium seats, deckchairs, brollies, nodding heads and just about everything imaginable at cost. No t-shirts for the boys at $22-$80. The seating capacity of the ground is a little over 50,000, there are games where everyone gets a lunchbox, two Dunkin' Donuts - fancy going in to work and being told to produce 100,000 donuts for a game - just this Monday the first 18,000 fans through the gate got a replica helmet. A real business enterprise and money making machine.
We really did see a bowler 'do it'; just like on the movies. Men came to tidy up at half time, YMCA was playing over the loud speakers and it was great fun to see them stop and do the all the actions. The Mariners team talk as to what do next as they had a Yankee on each base. Before the game we stood to listen to the National Anthem, but bizarrely we thought, we had to stand during half time to sing 'God Bless America'. I have a cunning idea that they have to keep reminding themselves to be patriotic, that they are compelled to fly the 'Stars and Stripes' outside their homes and it's all jealousy that we gave them away and they don't have a Royal family........... Simplistic, but you don't see so many Union Jacks flying in the UK - here they all seem to fly their flag. The game did turn out to be a lot like Rounders - I had to ask a 'die hard' fan for a quick once round the huge computer reader - too many abbreviations for us to manage.
The New York Yankees have a long history filled with many high points, milestones and championships. With 27 world championships, they are the most successful team in Major League Baseball history, and have accomplished this feat with the help of such names as Babe Ruth, Lou Gehrig, Joe DiMaggio, Yogi Berra, Mickey Mantle, Reggie Jackson and Derek Jeter (who we saw playing today).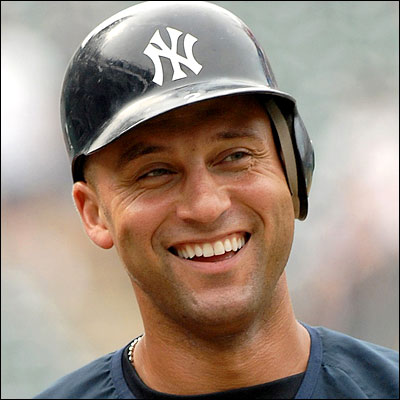 Derek Sanderson Jeter born 26th of June 1974, is an American Major League Baseball (MLB) shortstop who has played his entire career for the Yankees. A twelve-time All-Star and five-time World Series champion, Jeter's clubhouse presence, on-field leadership, hitting ability, and baserunning have made him a central figure of the franchise during the Yankees' success of the 1990's and 2000's. Due to his impact on the team, he has served as the Yankees' team captain since 2003. He is regarded as a consummate professional by teammates and opponents alike, and has a reputation as a reliable contributor in the postseason. The crowd went nuts when he came on the field.
George Herman Ruth, Jr. (6/2/1895 – 16/8/1948), best known as "Babe" Ruth and nicknamed "the Bambino" and "the Sultan of Swat", was an American Major League baseball player from 1914–1935. Ruth originally broke into the major leagues with the Boston Red Sox as a starting pitcher, but after he was sold to the New York Yankees in 1919, he converted to a full-time right fielder and subsequently became one of the league's most prolific hitters. Ruth was a mainstay in the Yankees' lineup that won seven pennants and four World Series titles during his tenure with the team. After a short stint with the Boston Braves in 1935, Ruth retired. In 1936, Ruth became one of the first five players elected to the Baseball Hall of Fame.
Joe DiMaggio married twice (son Joe by Dorothy Arnold). His second to Marilyn Monroe, she filed for divorce after 274 days. According to her autobiography, Marilyn originally did not want to meet DiMaggio, fearing he was a stereotypical arrogant athlete. They eloped at San Francisco City Hall on the 14th of January 1954. Later he was so alarmed at how Monroe had fallen in with people he felt detrimental to her well-being, he quit his job with a military post-exchange supplier on the 1st of August 1962 to ask her to remarry him; she was found dead on the 5th of August. DiMaggio's son, Joe Jr., had spoken to Monroe on the phone the night of her death, and had claimed she seemed fine. Her death was deemed a probable suicide but has been the subject of numerous conspiracy theories. Devastated, he claimed her body and arranged her funeral, barring Hollywood's elite. He had a half-dozen red roses delivered 3 times a week to her crypt for 20 years. Unlike her other two husbands or others who knew her (or claimed to), he refused to talk about her publicly or otherwise exploit their relationship. He never married again. At his death in March 1999 (his son Joe died in the August aged 57), the New York Times called DiMaggio's 56-game hitting streak in 1941, "perhaps the most enduring record in sports". During the hitting streak, DiMaggio had a batting average of .408, 15 home runs and 55 runs batted in. After the streak ended, DiMaggio began a 16-game hitting streak. DiMaggio would hit safely in 72 of 73 games, another record.
Bear being Bear was almost predictable, he had managed forty winks at the Harlem Church in all the noise of the band and choir, no change here today then. We did enjoy our day, felt we were on hallowed ground; watching a game steeped in American history.
ALL IN ALL A GREAT WAY TO END OUR NEW YORK EXPERIENCE
---