To Cooper River

Beez Neez now Chy Whella
Big Bear and Pepe Millard
Thu 5 May 2011 22:31
En route to Cooper River - Owlnapping at the Forefront of Our Minds
Leaving at eight this morning, it's official, this is the most clothing I have had on since mid Atlantic crossing. Summers coming. "Well it better well hurry up". There was full coverage with quilt - no Sweaty Bear - last night. However, NO SLEEP. Bear had the American mobile, international mobile, satellite phone all lined up across his chest, ready to co-ordinate information leading to the recovery of the Owlnapped Wise One.
Passing Bear Island
I was pretty much on my own in the wiggly, very windy and cold bits as Bear was in full comms with a whole raft of authorities. He did choose Cooper River to anchor tonight as in Skipper Bob it does say Lots of wildlife.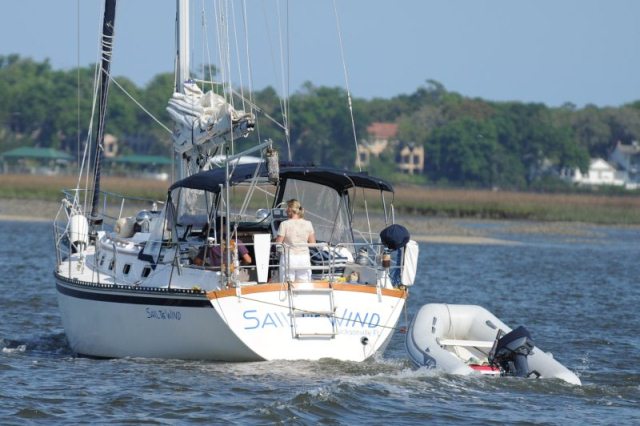 A stark reminder of how it happened - the actual Owlnapping
The Superintendent had set up a command post and sent his deputy off to co-ordinate air support
Sea support was in ready about mode, small fast craft were searching and the gulls were resting after a long night on duty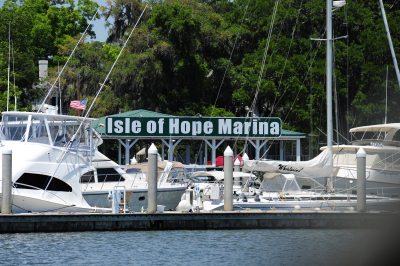 Everything that could fly was on full look-out and the Isle of Hope Marina became a temporary command centre
One of the bridges got itself stuck in case there was any car getaway planned
Thunderbolt Marina offered her girl with the biggest horsepower in case Bear aka POWOR (Planning Operative Wise Owl Recovery) needed quick transfer as things hotted up. A boat called Tattoodle offered to be the handover vessel when the time came, everyone's spirits were high and in confident mood for a successful outcome. Meantime bear had been on to the Secretary of State, the Supreme Court and the Pentagon. They agreed the ransom should be paid in this incidence as so many osprey depend on the Wise Owl for marker distribution - and after all - it is nesting time, eggs were ready to be laid........
The Thunderbolt Condominium Residents Association allowed their private dock to be used by the local police who were simply brilliant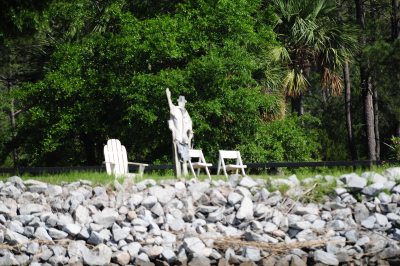 They had set up a series of undercover operatives, currently hiding out in a wrecked boat shed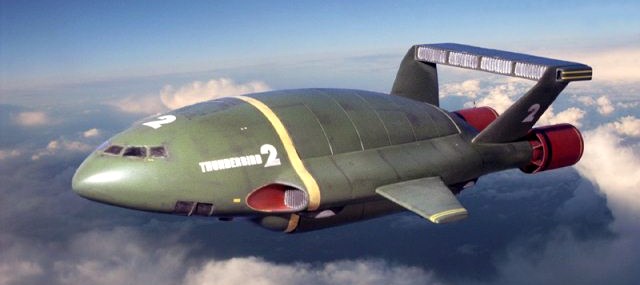 Seeing Bears distress, I pulled a few strings with my old mate Virgil, Thunderbird 2 was ready with pod 5 in minutes, thanks Virg
Some chums diverted from their routes to act as muscle, thanks girls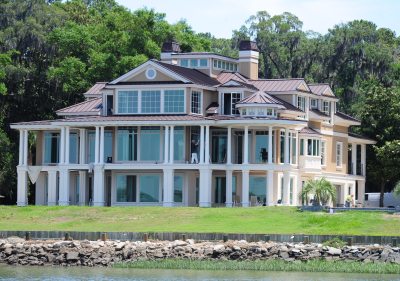 Finally Bear got the call he had been waiting for, ransom paid, the kidnapper gave instructions as to which bridge to use and which house under construction would be the handover rendezvous
I'm delighted to report that Operation Bluebird under much secrecy, had a happy ending. Now it just remains to be seen if the Wise Owl after much debriefing can get back to work for the Osprey, quickly and efficiently allocating markers for nest building.
All good agents can resume normal life in a heartbeat - Bear is no different - he managed to put down the anchor in Cooper River and take me for a little spuddle to make up for his lack of steering today during his handling of such a delicate operation. The Wise Owl has indeed put Bears name forward to receive the highest civilian honour The Presidential Medal of Freedom - My Hero.
ALL IN ALL A DAY TO REMEMBER
NOT TO BE REPEATED
.
---