Bits and Bimbles

Beez Neez now Chy Whella
Big Bear and Pepe Millard
Sun 18 Aug 2013 22:47
Bonkers, Beez, Bits and Bimbles In The Sun
We haven't found a whole one – but this kept the trigger finger happy for now......
Alderney came in with a cargo of boats, strange for a general cargo girl to be put to this use, a first for us. This lady was built in 2003 and trots along at an average 9 and a bit knots. Her deadweight tonnage is not massive (compared to some of the big girls we saw in the Panama Canal) but she's reasonably big at 3482, but then she is only 283 feet long and 42 feet wide.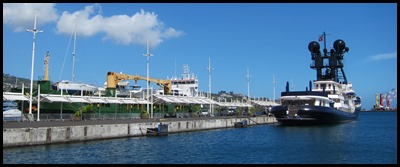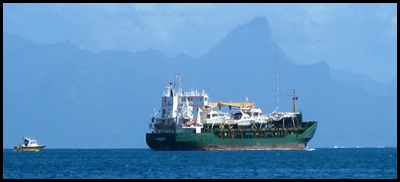 We looked Alderney up on the internet and her destination was here in Papeete, no forward route has been added yet. Odd that the blue hulled yacht had her mast laying on her deck but the white one next to her was ready about, we could see her inflated dinghy so perhaps the journey is a short one. Alderney clearly needs a visit from the man we saw dangling from the front of Arctic P, as she badly needs her anchor beds touched up with a bit of green paint. Meanwhile said Arctic P was shuffled round the corner. A few days later Alderney left.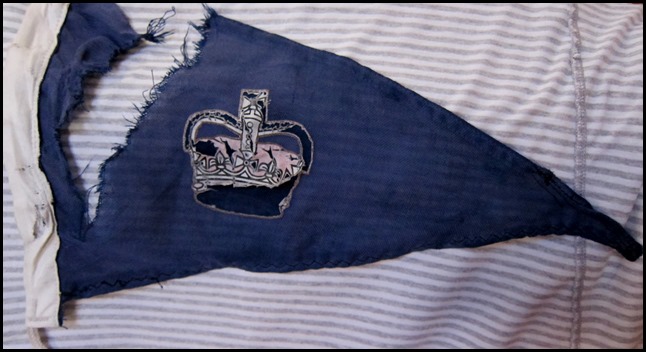 We finally had to retire our RWYC burgee. Spare out of box and raised with due reverence.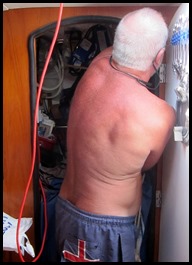 Much of our chore days seem to be filled with the "unstow – stow" nugget. This is the captain fighting with his 'big tool box', reserved for big jobs. After much hefting and sweating, with the odd bad word, it yielded. Thank heavens it doesn't have to come out too often. I should enter a snippy remark here but will stick with no comment......... Yes dear. The reason for the outing was to fit the new parts to the towing generator.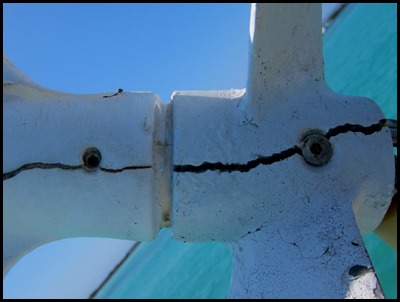 We sent these pictures from Isabela Island in the Galapagos to Alison at Duogen, a very poorly chap. Immediately we received an email, parts to be waiting for us when we got to Papeete. Sure enough, Alison worked her magic and Bear went to see Fanny in the DHL office, a short bus ride away, and back he came with the new parts. We are always so very impressed and grateful with the after-care service we have had over the years and cannot rate the company highly enough. Thank You Alison and all the chaps back at base.
We think the crack happened when we hit whatever did for the propeller off Providencia. Bear did minor repairs to keep him going, but had to retire him completely on the journey here – sorely missed as this little chap produces enough energy to keep the freezer and the autopilot going. The solar panels and wind generator do the rest.
Dave on Alexes proves that every boat always has a long list of chores. Steve and Chris (Scott-Free) were here a month working every day. Bear has pottered through his wide and varied jobs. The girls are after all, our home, shed, garage, car and al fresco fun areas, each taking a fair old battering. Hopefully the chores done here in Papeete will see all our girls (fingers crossed) going strong until New Zealand where I'm sure there will be new lists ready to attack.
This is what washing looks like when a captain is alone - not used to pink jobs. The downstairs admiral (Jenny) currently in Oz - back Wednesday – thank heavens. We watched, actually amazed when the shorts were flung and pegged where and how they landed. The single sock has had a serious fall out with his mate and the boxers are entertainment on their own.
The captain was completely unfazed. Another skipper did pass the comment that anyone who can have a boat name with '
ale
' going one way and '
xes
' going the other is perfectly OK. Bear wouldn't have noticed and I certainly wouldn't have said anything. Apparently Dave and Jenny didn't twig that at the time they bought her, they just liked it the name.
Bear on the other hand, displays his skills as Mr. Woo, mind you, he did have to have a little training and instruction – more like bloody nagging, what was that you just muttered. Nothing dear. Mmmm.
Later, we both groaned as Dave said this sign is not what sailors want to choose..........
I didn't realise I had said out loud – could you trust this pair. "No" they both said as one.
The Town Hall.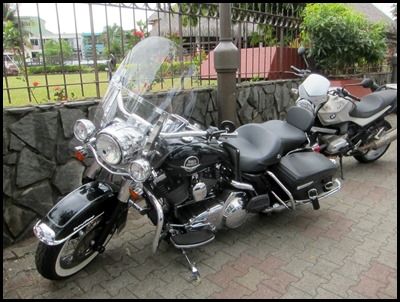 These powerful ladies prove there is wealth here on the island.
For sale and rent. Knock off two zeros and that roughly translates to $US.
Manta Ray design on the Avis Car Hire office window. Between us we have a car booked for Wednesday to explore, visit Carrefour to top up supplies and collect Jenny from the airport.
Bear has become quite the little shopper.
We love this telephone box, complete with natural decoration. You have to trample over roots to get anywhere near it.
Bear hasn't produced 'an egg incident' for a while, a very mediocre attempt I felt - cheek. We always judge a country or island by the standard of wiring, here, very posh. Flowers are everywhere but very little in the way of birds, minor birds, some doves and a few chickens are all we have seen.
We are enjoying being in a town for a change, always something to see or watch, never know what's next.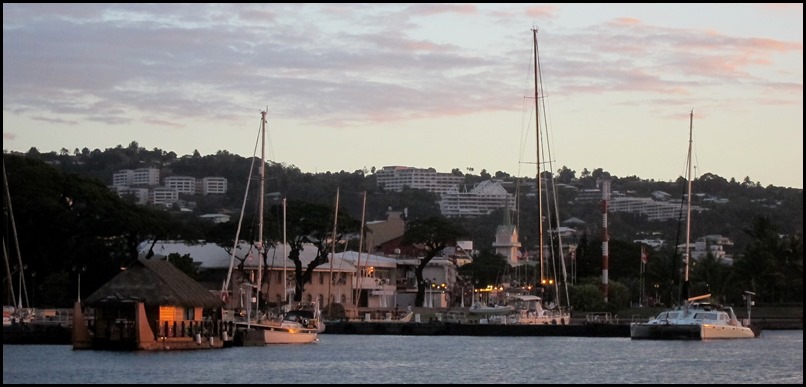 ALL IN ALL STILL LOVING TAHITI AND HER PEOPLE
---