To Tsara Bajina

Beez Neez now Chy Whella
Big Bear and Pepe Millard
Mon 29 Jul 2019 23:57
To Tsara Bajina
Up and ready for the off at eight thirty. We left at low tide, a couple bimbling on the beach.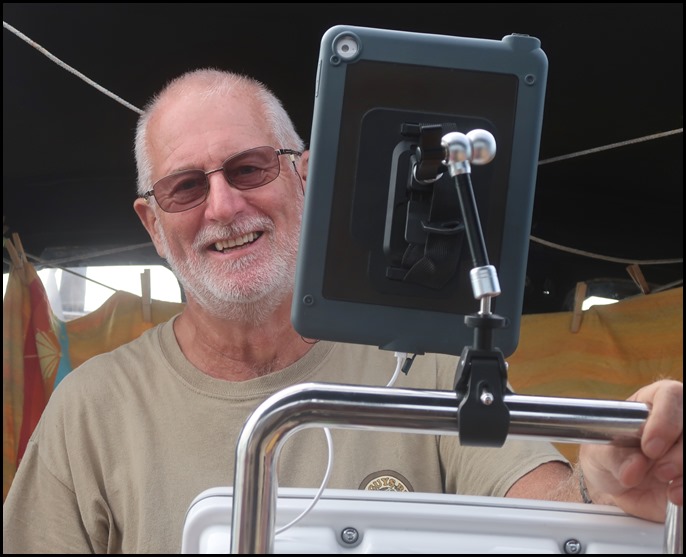 Bear took the wheel after the anchor was up (showing off his hair and beard cut from last night). Once again the autopilot was not to be tamed (Bear thinks he needs to re-site the compass from the office).
I used the time to empty the final store bin below the lounge table where we sit. The packets were dirty with diesel and seawater but other than needing a good bath......
Mince and rice washed and draining.
That done I went outside to see an island.
Our destination – far left.
We watched so many boobies dive on fish that made the surface look as if it was boiling.

Tsara Bajina.

Little islets and reefs around the resort island.
Our journey. No detail on the chartplotter. Our route on Bear's IPad. 12.75 nmiles.
Anchored off this small resort in seven metres.
We saw a few people on the beach, what a setting for a remote holiday.

Happy locals came by offering us lobster but soon headed for the resort with their catch. We settled to backgammon, Bear was four nil up, I managed to claw back to four all but then Bear kept throwing double fours. My turn to snarl and complain bitterly.
Cock up in the cockpit. Lunch. Bear went below to get the makings. My habit for so many years is, as I finish with something, pepper, mayo etc, I toss it gently to the doorway and Bear puts it away. His wraps were made with care and all was well. However. Somehow I managed to throw the sharp knife just as Bear put an unopened can of beer down. Quite a fountain with an accompanied hissing sound, wailing from Bear as I pierced the thing dead centre...... Could have been one of my arteries spurting. Well, you know timing is everything....... Growling.
A pretty sunset in the making. Mex Train, I won, more growling, then as the sky was overcast we went in to watch a few episodes and chill a bit. Off to Hellville on the morrow. The sunset was indeed spectacular.
ALL IN ALL A CUTE LITTLE HOP
A HOP AROUND THE CORNER
---