To Da Nang

Beez Neez now Chy Whella
Big Bear and Pepe Millard
Mon 8 Jan 2018 23:57
To Da Nang
We ate breakfast and packed, I fight with my now poorly, old laptop and the hotel arranges a car to take us at midday to our new digs in Da Nang, forty minutes away. It's unbelievably quiet on the streets of Hoi An as we leave. Things don't get crowded until the afternoon tour buses come in and the night market opens.
We clear town and pass rows and rows of paddy fields. There is a big sluice gate that opens to flood river water on the fields as and when they need it.
Our driver thinks he's at Silverstone and uses his gas pedal like someone would blow up balloons. All along the main road we see huge hotels and many more in the build phase.
That's an odd looking mountain sticking up over there. Oh, that's the same one as we scampered up and through yesterday. Oops. Water Mountain, part of the Marble Mountains.
We pass a whole load of yards selling thousands of marble statues, Buddhas and modern art pieces.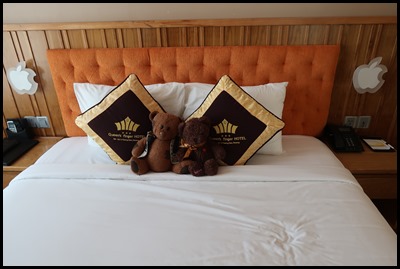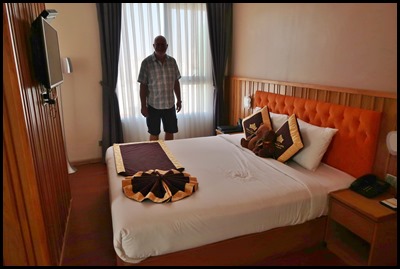 We settle on the 11th floor of the Queen's Finger, a modern place in the midst of a building site.
We have a little lounge area and interesting bathroom.
We go to the roof pool where silly boy poses.
We love the sign that reads: "DO NOT STAND, SIT or LIE ON THE WALL OF POOL. Yep, that makes sense.
I get Bear to pose sensibly in the left corner and then the far corner of the L-shaped pool.
The sea from the right hand side of the pool.
The sea from the left side of the pool.
Over the town looking toward the big wheel, really misty.
We enjoy a cocktail and the diddy pool. Later on,we decide to go down to the second floor for supper. Not a soul about until chef appears from a far corner. I order chicken soup, Bear steak. We giggle as four times we heard the steak getting a hammering.......... Bear checks it comes with vegetables. When we see it we have to wait until are on our own once more. Bears medium rare steak is several bits of very well cooked skirt, twelve refried chips, a lettuce leaf and a teaspoon of potato salad. I have a bowl that I could soak my feet in......Time to watch a film. As we settle to sleep the wind is blowing a Hooley .
ALL IN ALL MODERN HOTEL, HYSTERICAL SUPPER
NICE SHORT JOURNEY, BEAUTIFUL SWIM
---