Camel Trek

Beez Neez
Skipper and First Mate Millard (Big Bear and Pepe)
Wed 15 Oct 2008 20:15
CAMEL TREK
After our late night Jamming. Ali our guide was very surprised to see us perky at 07:30 for al fresco breakfast. The map shows M'Hamid ( bottom right ) we are not far from the border with Algeria here. The wall picture shows a fantastic likeness to our host, co-director and owner of 30 camels, Habib.
Al fresco breakfast of bread, soft cheese triangles, not Dairy lea but just as tasty, jam, fresh orange juice and coffee. Time for a quick Shi-Shi. View of the garden.
Quicker Shi-Shi for Bear as we had to be off to meet the camels at 08:00 for our trek. My favourite picture, looking between Locheel's ears.
Off we went to the local inhabited for over 400 years ( Kasbah ). The men have mostly gone off to work in the city leaving the women to gather water, tend the children and animals, mend any leaks with home made plaster ( with water from the well ), the drinking water comes from the village tap. The Government have helped by adding basic electricity. The newer Mosque, but the hand made original still exists. Camels parked, they are tethered by tying their rein to their front leg. This year saw the loss of the date harvest due to the heavy rains, the last harvest to be lost was the wheat in 1995. Rain may be a nuisance but with the irregularity no-one complains when they see it.
How a camel tucks his legs under him. Make sure your camel feels loved. Big Bear with the two Ali's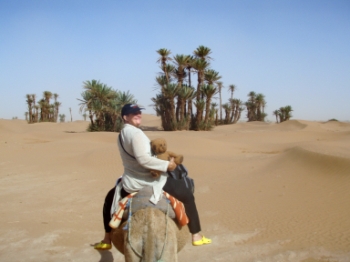 Off into the more barren landscape. We saw a camel caravan in the centre of the photo. Ali x 2 taking in the view of Timbuktu.
Family snap time, had to do a Noel Coward photo with a brolly 'mad dogs and Englishmen'. Lawrence of Arabia lives on.
After a time of taking in the extraordinary views over the low dunes, it was back to the village of M'Hamid, via the M5. Camels seen happily walking with their women owners walking behind carrying their food supplies. ( we were not permitted to take photos of the humans ). Shame about the rubbish. Plastic carrier bags are a sad sight, often seen flying around on the breeze.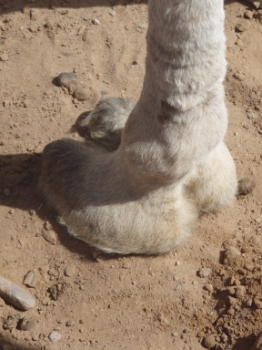 The amazing ungulate foot, the folding flap of the nose and for those who know what I mean, the Camel Toe. During our trek I got a fit of the giggles, my camel shut one nose hole against the wind and sand, the other flapped like a saggy sock. Camels NEVER spooked once against flying rubbish, quad bikes, donkey and cart, push bike, people shouting in the wind, things a horse would have freaked at. Their feet just walk over any terrain, stone, sand, sharp stalks and rubbish. Their gait is a slightly slower roll than a large horse, but faster than an elephant.
All in all a fantastic experience NOT to be missed.
---