Boddam Island Graveyard

Beez Neez now Chy Whella
Big Bear and Pepe Millard
Wed 26 Jun 2019 23:37
The Graveyard on Boddam Island
After exploring the church and remaining buildings on the island, we returned to the memorial cross on the beach and turned right. We followed a track marked by orange plastic tape and bimbled along for fifteen minutes. We passed the biggest coconut crab of the day, safely tucked into his well constructed burrow.
The main entrance to the graveyard, a memorial opposite.
The memorial cross, below a plaque...........
...........In remembrance of our beloved who were buried here May they rest in peace on a visit Oct-Nov 2009.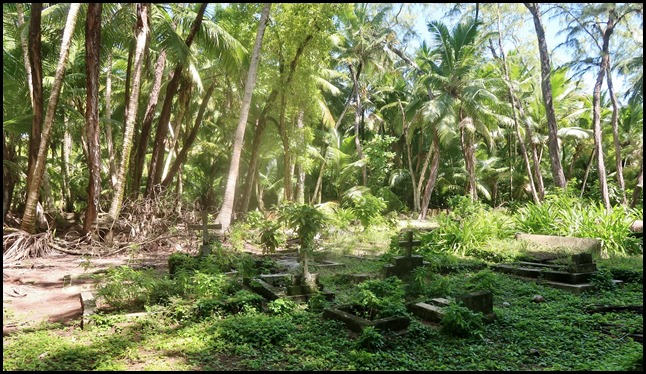 We spent the next half an hour visiting each grave, many in the shade of the coconut trees all bordered by a short wall crumbling in places. Few graves were in good condition, many in a very poorly state. One or two were once very regal and imposing in their day. Here is what we saw.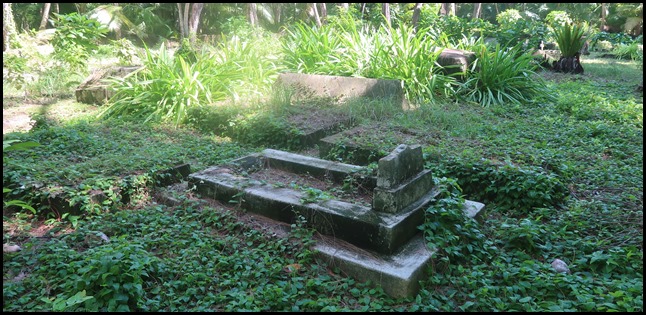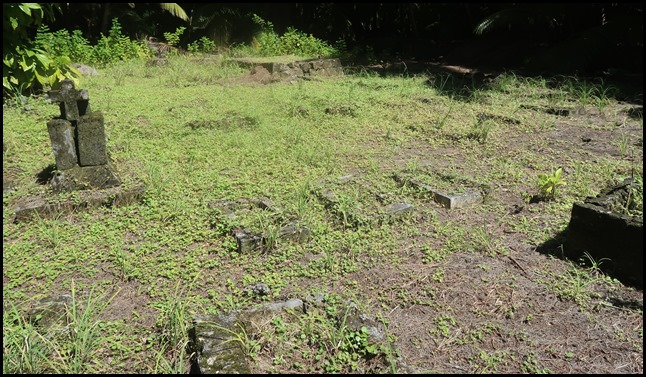 We carefully looked at each and every grave but only found two with words we could make out on this one and the next, nearby. At the top of the cross we could just read Septembre 1952 not the name.
In the far left corner (from the main entrance) we saw the only grave with a readable headstone – J Raoul Cabouche 15th of Avril 1883 to the 25th of Mar 1952.
A final look back before we retraced our path back to the beach for a snorkel.
ALL IN ALL A CRUMBLING HAVEN OF PEACE
LARGE AND VERY PRETTY
---