Flushes and Bears

Beez Neez now Chy Whella
Big Bear and Pepe Millard
Sun 6 Nov 2016 23:57
Hot Flush Bear and Christmas Bears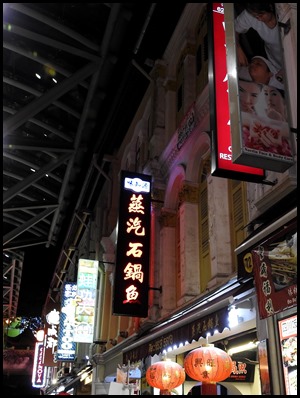 We left the Gardens by the Bay and hopped on the Metro to Chinatown for supper. Our most efficient experience yet, on time, cheap, spotless carriages, no driver, clear instructions and the carriages stop within an inch of the green area on the platform. People wait each side of where the doors open behind a red line allowing folks to get off first. The atmosphere in Chinatown was a jolly one.
Our first busker in Singapore played a 'wok' of sorts and made a sound like a quiet Trinidadian pan, very haunting and melodic – it went with the street.
We had seen advertisements for Spicy Small Lobster and Steam Hairy Crab................
We started with very crispy, tasty spring rolls but the sauce should have come with a fire warning..... Then Bear launched into chicken gizzard and foliage that judging by the forehead leakage was extremely hot. That doesn't begin to cover it but I was brave – I looked the other way.
My sweet and sour pork (never did see any sweet and sour chicken anywhere we ever looked) was served in a pineapple and was delicious.
Back on the Metro and we found Christmas had come to the little park next to our hotel – Bears everywhere.
After posing I feel a cold shower coming on. Oh dear, it could be a rough night.......
ALL IN ALL A FUN EVENING
GREAT BUT HOT EXPERIENCE
---