Last Week

Beez Neez
Skipper and First Mate Millard (Big Bear and Pepe)
Mon 26 Sep 2011 13:03
Last Week
Monday began with emails, photo editing and going in to Plymouth for some final bits and bobs, evening with a massive Chinese take-away fix (covers my need for sweet and sour chicken for a while). A great night with Big Bear, Fran, MOTH (Mistress of the House) and Hugely Handsome (aka Keith).
Tuesday. We went to see Family Millard (sadly Kim at work). Had a fab time playing with Oscar (own blog) and took this picture of three generations (Bear, Martin and Oscar), no need to comment on how much the elder two look like each other, it's been said too many times. Kim knows exactly what her husband will look like in thirty years and is "cool with it". Back to gather our luggage, Beds had a long talk with Fraser, Biaga did her best to look humble. Massive hugs with MOTH and 'Beds Adversary" and up the M5. Thank you Family Walker, you are star people, especially MOTH. Ten o'clock will be Bailey's o'clock forever after. Then to Swindon to see Jacks' moves in his new PJ's.
Wednesday and Thursday. Tackled The Magic Roundabout to gather very final bits and bobs, photo editing and the gargantuan task of packing five cases; weighing them a hundred times, jostling your knickers. See the warning signs. Paint Pepe's face a deep shade of crimson.
Have you ever seen anyone use a set of digital case scales with such force and accuracy in the pursuit of pain.
Bear has.
Cover your head Bear, Cover your head.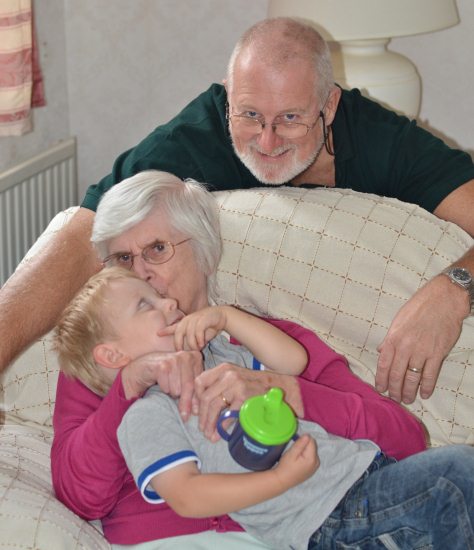 Friday. Went to see mum. There was much Jack had to tell 'GG' about race cars, Lightening McQueen in particular. Lovely to see this set of three generations having fun.
Saturday. Team Tinson, Miffy and Rachel, Steve and Chris (Rachel's mum and dad) and us - a merry band, went to Mini World, Castle Combe (own blog). Uncle Miff was seen as the hero for "going in a race car" and letting Jack wear his helmet.
Sunday. Kate treated us to a fun day out with Thomas (own blog). The rain did not spoil the good time.
Monday. Jumped up really early, said our 'farewells' to Team Tinson, nipped to the Post Office Parcel to pick up a parcel from Family Law and on to the M4 to Heathrow. Saw the new sexy shuttle bugs, returned the hire car with an extra 2,456 miles on its clock. A fairly uneventful flight, we put our watches back five hours; landing in Dulles Airport, Washington around two in the afternoon. Economy hire car this time was upgraded free to a mammoth truck - because we were sailors and the manager liked us. His turn to drive; Bear left the car pack still playing with a dashboard that a Space Shuttle would be proud of. Last stop of the week Annapolis, just to readjust for a few days.
Each week has been just a full as this one, as usual we are sorry we missed seeing some, try next time.
ALL IN ALL - ALL IN ALL
BUSY, BUSY, BUSY
.
---