To Long Island

Beez Neez now Chy Whella
Big Bear and Pepe Millard
Mon 28 Mar 2011 22:37
En Route to Long Island, in the Bahamas
We woke to an idyllic morning and moved off in convoy with Mi Amante and Nancy Dawson leaving Landrail at eight
After a chum passed we settled to a game of Upword, next thing we were treated to a fly-by. Two members of a display team - I can hear them now - "Oh Red Leader look, a couple of little yachties, let's zap them" well with that they flew past, red to starboard, blue to the port side of Beez, smoke trails doing their thing. We were left in a pool of white stuff and saw zero for the next ten minutes "Top hole, jolly japes". Hope it's not toxic.
Caught dabbling
Clearly a man with a sharp mind named Long Island, wonder where that came from...... eighty miles long and four wide
As we near a destination, we reduce the scale. At one and a half miles we can see the sheltered bay we have to enter..........
.......... but first passing by the reef that forms a kind of gateway. Flying Fish Marina just showing some sport fishing boats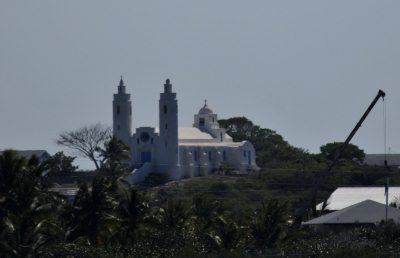 Passing by some interesting buildings. We would later find the marina houses a horrid man who hates yachties "Always wanting to use the internet for free, plugging in and sponging electricity" (we paid our $5), "Wanting to use the showers after closing time". "Never buy anything". The classic "A yacht radioed in and the sports guys gave me $100 to say we were full". Sad to be the only horrid man in the Bahamas.
We slowly passed the channel into shallow water, rocky beach in front, sandy to our left
A welcome from a tropicbird
Behind us was the gateway we could not enter by
Our own turtle feeding ground right next to where we anchored after thirty seven miles
After the fiery sun dropped a gentle light to settle to
ALL IN ALL SO PROTECTED IN THIS HUGE BAY
---