Banda Snorkel 1

Beez Neez
Skipper and First Mate Millard (Big Bear and Pepe)
Fri 29 Jul 2016 22:27
Banda Snorkel Number One
Ashore for nine o'clock, we found our craft and Bear was soon settled on the roof. We were going out with a guide, two drivers and several boat crews.
We were going to just above the 'r' in Vuurberg off Banda Api. Next stop above the first 'u' and finally after lunch off the west side of Keraka. Our guide promised us "a great day in the best spots". We have really been looking forward to this trip.
Out past the rally boats against the wall.
Looking over to our anchorage - Brahminy Too, Beez Neez, Matilda, Wirraway, our local neighbour hiding Wishful Thinking and finally Serica.
A sleek local boat, looking a bit like a hot rod methinks.
Around the back of Gunung Api we pulled in to the edge of the lava flow, not very appealing I hear you say. Well, let's give it a go. Soon in the water above coral that has been growing here since 1988 covering the black base with a dull grey. Almost immediately curious fish came for a closer look.
Out to the steep drop off (from five metres to two hundred and fifty in just a few feet) there were clouds of fish.
Back in the shallows we saw checkerboard, fancy, yellow and blue in a tiny area, this is going to be great.
So many different fish in one small area.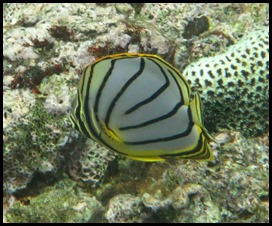 Brand new to us.
A big boy and friends.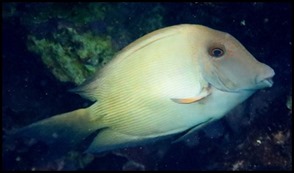 Conscious effort to remember the pale, beige and brown chaps.
A real snooty and a beautiful Mr Fish.
Healthy coral, a big, fat blue starfish and some interesting yellow coral.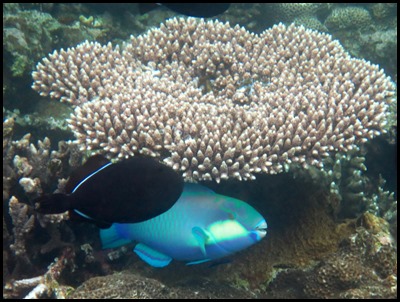 Wonderful to see a clownfish in a bright pink home. Parrot and trigger rest together.
A pipefish almost got in my mask demanding his shot.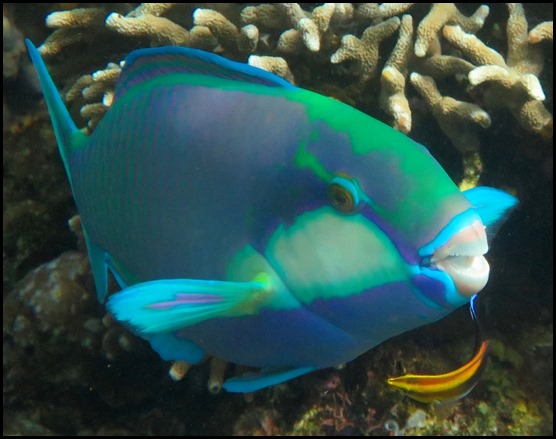 A cheesy grin as this chap enjoys a cleaner wrasse's attention.
The queue for the cleaners was quite long.
A new group to us. These chaps dangle in the water, noses down, like so many leaves wafting in the breeze.
We met three such herds and were absolutely fascinated.
The coral came in muted tones but very healthy.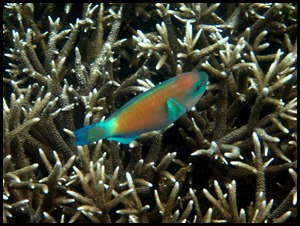 So many different colours amongst the parrots. - the best of the rest........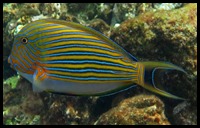 ALL IN ALL AN AMAZING SMORGASBORD OF FISH
INCREDIBLE LAVA, NEW CORAL AND SO MANY FISH
---