To Bonorong

Beez Neez now Chy Whella
Big Bear and Pepe Millard
Sat 30 Jan 2016 23:17
To Bonorong
We jumped up at the crack of sparrows for the longish journey from Strahan to Bonorong Wildlife Sanctuary – our camp just ten minutes further on. We knew the road would be a wiggly one, but not quite so mountainous.
All began pretty flat.
Approaching Queenstown, the relics of mining became the scenery.
Not a soul about at ten o'clock.
The Galley Museum and opposite the Miners siding.
Miners and War Memorials.
Queenstown Station – our destination on our Wilderness train journey. The Empire Hotel opposite. Later, we met someone who was born in the town, "Oh, yes, a soulless ghost town since the mines closed". How very sad.
We left Queenstown and shortly the wicked witch told us things were now going to be wiggly – and steep.
Just around the next bend was the Queenstown Lookout, we stopped and found so many interesting information boards.
The puddle next to Mabel showing so much iron in the water. The metal sheet a memory of mining
The view over Queenstown, tiny in the distance.
I had Bear cross the road and pose to show I haven't messed with the amazing colours of the roadside.
Nice to see a waterfall.
Our next stop was at Blow Hole Lookout.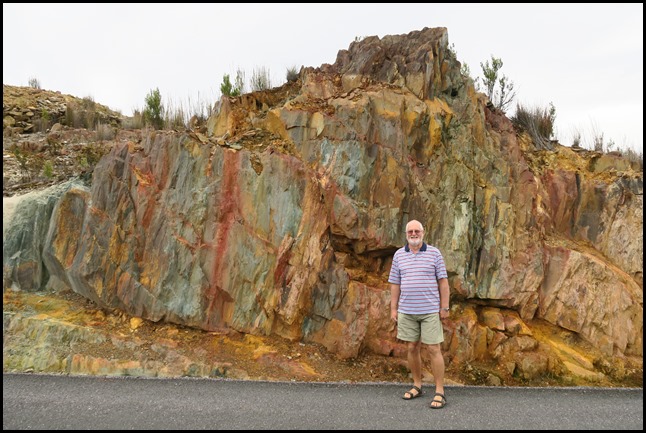 The colour of the rocks was even more outstanding.
We looked back at this incredible lookout just as one camper van turned up.
A way down the hill we passed a memorial to lost miners.
Heading toward water. No trees on the slopes.
Our last look up at the barren mining land and through Linda Valley.
Over Bradshaw Bridge.
We crossed the Nive River.
Massive hydro-electric water pipes to the turbines.
The water pipes stayed with us for a far few miles.
We loved the sign to Laughing Jack Lagoon.
Woodland, rolling hills and the odd village.
Glen Clyde House, we could indeed have been in the Lowlands of Scotland.
Much flatter scenery.
The 'crowded' road took us past the Gretna Green Hotel.
The final stretch of road was beside the Derwent River.
A fine rig just before we turned into the park.
ALL IN ALL A REALLY INTERESTING JOURNEY
A SURPRISING AMOUNT OF MINING
---