To Kochi - Day 7

Beez Neez
Skipper and First Mate Millard (Big Bear and Pepe)
Wed 3 Apr 2019 22:57
To Kochi - Day 7
Wednesday the 3rd of April – Day Seven. Well, for the first time in all the night passages we have ever done over about 37,000 miles, we swapped............Bear did my two until six. Don't get comfy with the idea, I'm never swapping permanently........, only under duress in these exceptional circumstances. The downside....... my body clock has gone completely awry. This morning it meant I came on duty at seven thirty, handing the skipper his breakfast. Gorgeous to see the genoa filled with a steady, but weak breeze. At least the current and wind are on our side. Indeed a joy.
Eleven thirty – my first fisherman.
St Martin about his business.

A chum mooching past.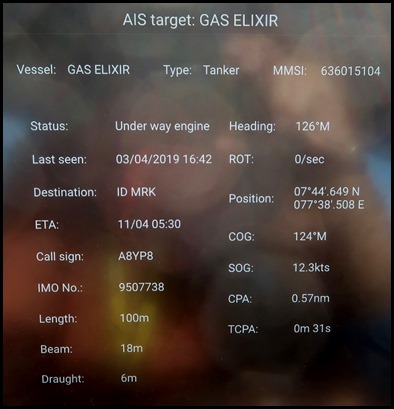 The chum at the top, Faneromeni, heading for Fujairah in the UAE and Gas Elixir heading for the Port of Merak, Indonesia. Happy to see you ladies.
At 17:50, my favourite lady and chum of the day MSC Daniela.
Daniela's vital statistics. Our first four Indian fishermen – busy doing their job – hurrah.
At ten to eight, a local girl, Chicago from Colombo, showed her lights to help with her intentions
ALL IN ALL A PEACEFUL DAY
MUCH MORE COMFORTABLE
---