To Antsoha and Lemurs

Beez Neez
Skipper and First Mate Millard (Big Bear and Pepe)
Sun 20 Oct 2019 23:47
To Antsoha and Lemur Cuddles
I was rudely awoken at three this morning with, Is that your IPod playing ??? Now as I said in the last blog we went to sleep with Soca music playing for the Crater to Russian Bay Rally Party. Not thrilled, but in the most pleasant voice I could muster I answered in the negative....... Needless to say, sleep alluded me for the rest of the night and there I was at six watching the sunrise.
At ten past six Slow Flight looked pretty with morning mist swirling on the mainland.
Plenty of the "we prefer to swim on our side" brigade came by.
The party boats were very silent as a local lady came through.
At seven thirty Slow Flight, Serafina and Beez Neez set off for the five mile hop to see lemurs. We left Russian Bay for the final time and now every mile will be new to us. Around the corner the little islet called Nosy Kivinjy came into view.........
and then Nosy Antsoha, our target.
Nosy Kivinjy now to our right was we swung into anchor at eight-thirty. Trevor very kindly gathered the six of us together and spuddled us in. We found a couple of guides, handed over three pounds each and took our tickets.
.
Bear held up our ticket – the chap, so cute.
Fred, me, Bear, Maria and Trevor taken by Kimi.
Our first lady was very shy and wary but eventually took the offered piece of banana.
We passed a pineapple as our guides began calling "Maki, Maki, Maki". We soon saw a chap dangling upside-down like a bat as a pair of fluffy, brown cuties swung in.
Maria had never been up close and personal with a lemur before and went into serious posing mode.....
I had a lovely chat, cuddle and kiss.
Delight on Kimi's face..........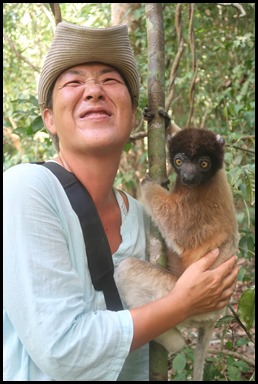 ......then she had her face well and truly washed.
Stroking as a 'thank you'. Bear enjoyed a cuddle too.
What is so gorgeous about lemurs is the way you put your hand toward them, with a little banana, they gently wrap their hand around yours and pull it toward their mouth – no rush, no claws, no nipping, just a careful scoop with their lips and a lick to clean up.
We bimbled up the hill and had a lovely view of the girls. Serafina, Slow Flight (in the middle) and Beez on the right.
Up the hill a little further, with a chap watching us, to a staircase that lead up to a little chalet that can be rented out, from here we could see Nosy Kivinjy looking very pretty.
Outside seating, sink and Kimi posed on the al fresco toilet.
We were put on the love seat and posed accordingly.
Maria and our guide show off the bed (currently covered in a protective tarpaulin), bedding in the trunk beside the bed. I loved the seat carved from a solid tree trunk.
My new friend chuntered away as he enjoyed his banana and became a new hat.....
Trevor was leapt upon by two youngsters, offering them nothing, they were happy to use him as a lookout.
Happy with him, it gave me chance to have a good look at an incredible hand.
Happy with Bear but he did have banana......
........until it was time to be opportunistic
Fred looked cool and Kimi had help with her photography.
Really tucking in.
We had a wonderful time with these gorgeous creatures but sadly, time to move on.
Dirty Diana launched, we left the gorgeous little beach.
Just before ten we left Nosy Antsoha behind.
ALL IN ALL A DELIGHTFUL STOP
BEAUTIFUL ISLAND WITH LOVELY RESIDENTS
---