The Best

Beez Neez
Skipper and First Mate Millard (Big Bear and Pepe)
Thu 30 Jul 2009 22:22
Simply the Best
Uncle Sam the Varnish Man told us about a practise session and dress rehearsal for the Emancipation Celebrations this coming weekend. Pam and Jim of Delicado, Pete of Troutbridge and ourselves went in two cars (ours driven by Paul - who works for Uncle Sam). Off we went into Port of Spain to The Savannah Park where we would see some pan bands doing their stuff ready for their procession along carnival route on Sunday. We would see a few of the many acts due on stage on Saturday after the main procession.
The Desperadoes - aka The Despers - we videoed their rendition of Love is a Many Splendour Thing and it was just incredible.
The Despers number one fan - Thank you Jim for this great picture
We saw the Renegades, a vibrant group of youngsters who did a really uplifting and fun performance.
Next up was Phase II
The thing that struck us was even after the bands finished and had to pack up, they were still smiling and having fun. As soon as I got back to Beez straight on the Net to find out more.
The Desperadoes Steel Orchestra
Emerged from the fusion of three different Steelbands from Laventille. The name of the group was chosen from the movie Desperadoes starring Glenn Ford which was shown in Port of Spain at the time. Despers were led by Rudolph Charles since 1961 until his death in 1985. Charles invited several pantuners like Bertie Marshall and Lincoln Noel to create the best possible orchestral effects. The orchestra has worldwide appearances and has performed at the Royal Albert Hall, the Carnegie Hall and along with the classical singer Luciano Pavarotti. Raymond "Artie" Shaw was the first musician to conduct Despers at Carnegie Hall in New York and for Queen Elizabeth at the Royal Albert Hall in London.
Education: Despers also make an effort to educate their community in Laventille, and has hosted Pan Camps with up to 200 children participating. Besides playing steelpan, the program includes foreign language training, life skills and field trips.
Competitions
Panorama: Despers won the national Panorama Championship of Trinidad and Tobago ten times in their history. The orchestra always takes part in the big band category with a maximum of one hundred musicians. That must be truly awesome as we saw them with only a quarter of that number and that was amazing. The sheer volume, passion and enjoyment in each of their faces.
Music Festival: Desperadoes have won the Steelband Music Festival of Trinidad and Tobago three times. They played the Polovetsian Dances by Borodin in 1986, the Marche Slave from Tchaikovsky in 1988 and the Bartered Bride by Smetana in 1992 as their classical renditions which were all conducted by Pat Bishop.
Certainly a CD to look out for
THE SAGA OF AMOCO AND RENEGADES
MORE THAN A QUARTER CENTURY OF PAN MUSIC
Amoco Trinidad Oil Company became associated with the Renegades Steel Orchestra in 1970 as a direct result of fierce 'black power' protests in Trinidad and Tobago at that time. Prime Minister Dr. Eric Williams, concerned about the social unrest among suburban youths sent a message to Amoco: "Would you be interested in sponsoring one of our community steel bands?"
Amoco responded positively. The company had just discovered oil off the east coast of Trinidad and was preparing to produce its first barrel. As it turned out, the company got into the exciting business of steel band sponsorship even before we produced our first barrel of crude oil. The initial contract with Renegades was signed in June, 1970.
Amoco did not select Renegades from those bands interested in a corporate sponsor. It was, for us, simply the luck of the draw. And what phenomenal luck it was for Amoco! The relationship between the sponsor and the community steel orchestra has been exemplary and nothing less than fantastic.
Renegades was advised by Amoco in their initial sponsorship that it was not conditional that they append Amoco to the band's name. But the Renegades wanted to be known as Amoco Renegades. It was a tremendous source of pride then to have a corporate sponsor of stature. It meant respectability, acceptance and assurance for the future. And, I guess, the band felt that it was the least it could do in return for promised financial and administrative support.
This was the beginning of an enduring relationship. A beginning that also led to other important relationships.
With its newly acquired sponsorship, Amoco Renegades was in a position to hire a musical arranger to prepare the band for the carnival season. Whom should they hire? Bertrand 'Butch' Kellman, then a young tuner who prepared the Renegades' pans, recommended strongly that the band consider a relatively unknown and untried pannist, 19-year old Jit Samaroo.
Mild mannered and slightly built, Samaroo accepted the challenge to work with Renegades, which had the notoriety then of being one of the toughest street gangs in Trinidad's capital city of Port of Spain. It is an incredible sight even today, to see Samaroo at work orchestrating the Renegades. Full credit must be given also to the Renegades, for their decision to accept Jit as their arranger. The band recognised his potential. and although it took almost 12 years before their first Panorama win, they never lost faith in him.
The first ten years of the Amoco-Renegades-Kellman-Samaroo saga did not produce any musical success, except for that time in 1976 when the band posed a Panorama challenge with Samaroo's arrangement of The Mighty Sparrow's Statue. Perhaps the most notable circumstance of those early years was that Amoco Renegades was, at last, gradually shedding its street gang image.
There is a very significant story in the fact that today, more than 25 years later, the team of Amoco, (now BPTT) Renegades, Kellman and Samaroo remains firmly intact. Very few steel bands, if any, could claim such a consistent relationship with arranger, tuner and sponsor. After a few dry years most bands are usually tempted to turn to another musical arranger in their anxiety for Panorama success. But Renegades, through a culture and tradition passed down from more turbulent times, always remain fiercely loyal to their own. These Renegades always stick to their guns.
Phase II Pan Groove
The Band is based in Woodbrook, Port of Spain, Phase II is one of the leading steelbands and the reigning National Panorama champions. Most closely associated with arranger and composer Len "Boogsie" Sharpe, Phase II was the first band to win a Panorama title playing an original composition. In 2005 they won the Panorama title with a rendition of Boogsie's Trini Gone Wild. They are currently unsponsored.
Lennox "Boogsie" Sharpe (born 28th of October 1953 in Port of Spain, Trinidad) is a successful and popular composer and arranger of Steelpan music. Sharpe began his career with Starlift where he worked as a co-arranger with Ray Holman. He is most strongly associated with the Phase II Pan Groove Steel Orchestra, a band he has taken to several finals of the Steelband competition Panorama, as well as winning the 1st place in 1987 and 1988. He does not teach Steelpan privately one on one, he teaches Steelpan publicly at the panyard. Boogsie started to play Steelpan at a young age when he was just four years old. He used to play with the Invaders then he went to Starlift, the steelband which Ray Holman was taking the revolutionary step of composing music specifically for the instrument. Boogsie wanted to continue what Ray Holman had started by starting his own steelband in 1972. Boogsie was not taught how to play Steelpan, he just listened to the sounds on the street and taking part of jazz sessions on his Steelpan with other musicians. Even though Boogsie can not read or write music his musical sense is very highly developed. Here is a very nice description of one of Boogsie's concerts from a Boogsie-watcher: "With arrangements of high tenors, double-tenors and guitarpans, Boogsie led, with Valentino's Life Is a Stage, playing the different pans in a jazzy interpretation and using the pitch of each pan to highly dramatic effect. Then, he switched to Relator's Gavaskar. The finely tuned pans answered his every call of musical _expression_ - forte to pianissimo. But it was when Boogsie, member/arranger of Phase II Pan Groove, switched from Terror's Pan Talent to Kitchener's Sweet Pan that the capacity audience roared its acclaim of the versatility. More was yet to come. Next, Boogsie was playing the high tenor pan held upside down by an assistant. In other words, he was playing the tune on the bottom side of the pan. He then ventured into extemporaneous musical expressions that brought the crowd to its feet. For the finale, he sobered the crowd with an exhilarating performance of his own 1984 composition, I Music -this time playing the pans from the front side of the instruments, rather than from behind the pans - the customary position. By the close of his half-hour performance, this superstar of second generation panmen was as fresh as when he had started. We saw him play a three minute solo and to watch the speed of his hands made photographing him impossible.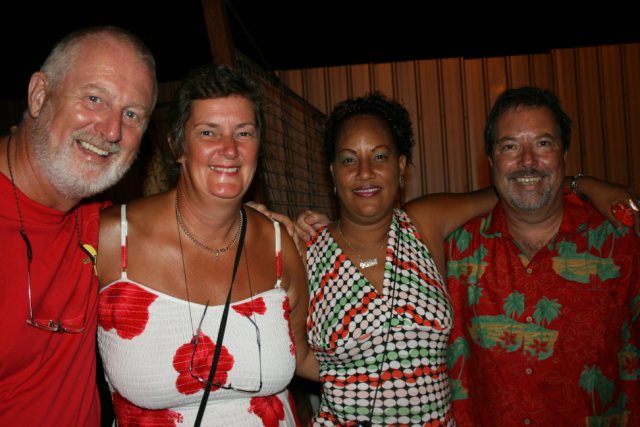 Bear, Me, Martha (Uncle Sams lady) and Pete from Troutbridge went home with Jim and Pam in the front car. We thought our fare was $100 TT each (about 10 to the pound), that was for the three of us - return.
ALL IN ALL KNOW WE ARE IN LOVE WITH THE SOUNDS OF THE PAN
---