To No Name

Beez Neez
Skipper and First Mate Millard (Big Bear and Pepe)
Thu 3 May 2012 22:17
To No Name Harbor, Miami, Florida
We ended our week long stay on Lake Sylvia (due to the worst wind and rain we have had) and wended our way to the first bridge heading for Miami
We were soon in thirty feet of water in the middle of the deep water inlet. Passing one of the Dockwise ladies – specialists in moving boats around the world.
I enjoyed passing these working girls
Into more familiar scenery
We felt this tree needed a mention as it had to lean out to find some sunshine at a very jaunty angle
We passed some huge houses, then a more cosmopolitan vista as we neared Miami
Then the expected shallow bit
Having to pass this lady – port to port – we found ourselves with 0.1 metres below us. (The next day we heard a Pan Pan message as a boat went very firmly aground just here and had to be "rescued"). We had had to time our arrival at this point for low tide as our biggest challenge bridge-wise was just ahead.
Julia Tuttle Bridge has just fifty six feet clearance, Beez mast is fifty five, so at mid tide would expect to twang the antennae at the top a bit
At low tide we saw we had fifty seven and a half feet, still it made for a few deep breaths as we passed under. The risk/benefit ratio was clearly go aground or smack the mast, no choice but 'sail on the spot' as the only option – however, Beez wanted neither as our Boat US (AA) membership ran out at the end of April. A tow off would run into a fair few $$$. All well however, so on to the next bridge into Miami proper.
Venetian Bridge. "Come up close captain, but don't near the fenders until the span (yep, only the right arm went up) has stopped moving". Great - in this current no mean feat.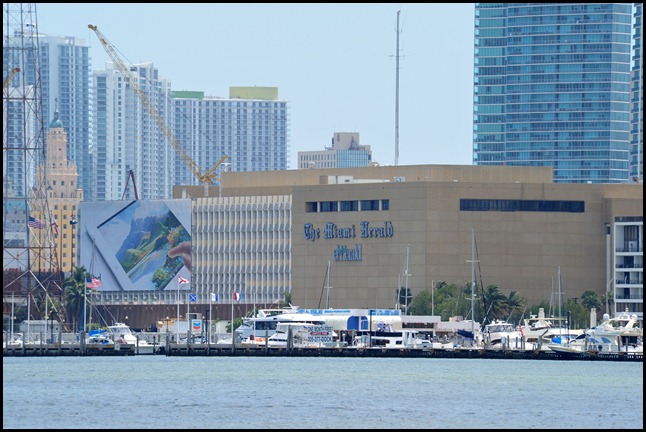 Passing the real metropolis of the city
The dock area
The deep water terminal
Behind us we saw Viscaya, John Deering's House we visited on our road trip
We crossed the vast Biscayne Flats and turned left into No Name Harbor
Twenty five point eight miles to anchor in this idyllic man-made harbour, very reminiscent of Mile Hammock Bay (the one the marines dug out). The harbour is used by many day trippers and we had a fair few before they made their way home. The going rate is $12 for a day pass and $20 to anchor, but as Skipper Bob says "they very often don't come to collect", fine by us. By the evening we had a couple of boats to our left and the restaurant to our right and a few more boats. We could have stayed here a few days, but going south is calling.
ALL IN ALL A VERY VARIED DAY
---