To Shaw Island

Beez Neez now Chy Whella
Big Bear and Pepe Millard
Sat 28 May 2016 22:57
To Shaw Island
We got up to a pretty light this morning.
Looking behind, we said farewell to Keswick Island at a quarter to seven.
Todays course of thirty two miles looks a bit busy on the smaller scale.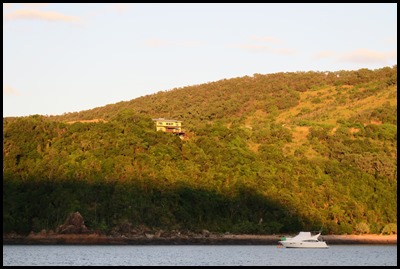 The sun caught a des res and the steep end of Keswick.
Definitely in the Whitsundays – islands everywhere.
We motored along the whole way with thirty metres below, then slowly headed into the anchorage. Coral over to the far right, we went left of centre and found six metres to nest at half past one.
Looking out from the bay, the way we will leave on the morrow, turning left for the much looked forward journey to Whitehaven Bay on Whitsunday Island itself. We settled for lunch in the sun and then for a nail-biting backgammon game. At four all, Bear had one man left and I had three, my throw...............double six to steal the win. Words filled the air that rhymed with the things that hold oars on the top of the dinghy........ Well, really. Indeed.
ALL IN ALL ANOTHER IDYLLIC DAY
WELL INTO THE WHITSUNDAYS
.
---