Hot Beach

Beez Neez now Chy Whella
Big Bear and Pepe Millard
Sun 28 Sep 2014 22:47
Hot Beach
We left camp, followed the boardwalk, crossed the stream and the road.
We read a board warning us that the hot pools can fill with water sixty to sixty four degrees Centigrade, now even I think that's hot. The beach has a bit of a reputation in these parts. We walk past the newly planted dunes and onto a fairly benign looking, sandy beach.
Looking left and right, nothing strange but more people to the left, we'll go that way and investigate.
We got closer – is that steam.
Oooo that looks so odd.
We were like Goldilocks testing the various vacant holes, and then we found a hot one.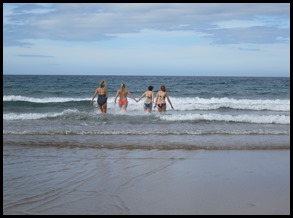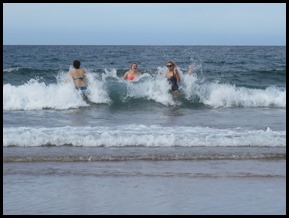 A group of young ladies decided to race to the sea and dip so they could feel the full effects of the heat.
Fun to watch, but when they came back you could 'ang yer 'at on their goose pimples and on their – Zsst....
The sun came out and this group showed how it should be done.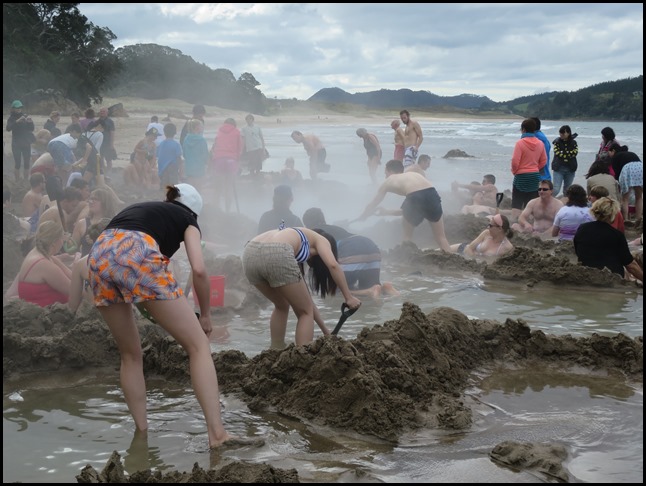 Elsewhere there was much digging and settling going on. Spades are five dollars to hire but we saw any number of 'tools' from cut down plastic four-pint milk cartons, to Frisbees, kiddies buckets and garden trowels.
The tide coming in gets people shuffling and dressing.
ALL IN ALL THE STRANGEST THING TO SEE AND FEEL
UNIQUE AND REALLY WEIRD
---