Afternoon Fun

Beez Neez now Chy Whella
Big Bear and Pepe Millard
Thu 24 Jan 2013 18:04
Afternoon Fun in a Golf Cart
After our wonderful lunch and short but heavy rain shower, it was time to carry on exploring the island of Providencia in our trusty little golf cart with Eric and Dee. The one thing that did impress us (other than the views) was the lack of rubbish. Lots of roadside and recycling bins all in use.
A Berger House, a viewing platform complete with resident tree and a sign letting us know about the Black Crabs
In all the lush, green, fertile and volcanic landscape we saw today, there were no formal areas for growing vegetables and fruits, just the odd plantain, breadfruit and coconut trees. There were one or two areas planted for sugar cane but overall we were very surprised in comparison to other islands. Churches were always smart and of course the carefully owned were real treats.
Near Freshwater Bay we saw this cute restaurant with a unique use for its empty wine bottles set in its paths
Loved Our Lady of Mt Carmel but especially her neighbours.
Passing this pile of 'One Careful Owner' bikes, I asked Bear to stop, back up and asked for compliance. I got it - it just had to be. I saw the picture forming.
Straight into the finals for this years 'OCO' I feel
Just a little way on a One Carefully Owned play park, very sad........
..........but later a very smart play park. We bumped into the handsome Joel, dressed in more than when he had been our snorkeling guide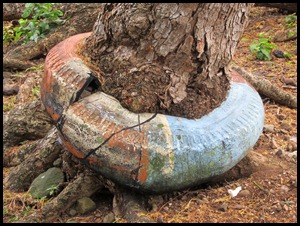 Tethered trees and happy benches........
Ready for Christmas and a wonderful roundabout.
..........but nothing more joyful than the markers indicating beach and bay turnings. On the corner of South East Beach was the best bus stop of all, Dee gracefully modeled for us.
My deepest joy was meeting Ambrosia
It was inevitable, just had to happen...........
Calling to our girls in the natural harbour
ALL IN ALL JUST THE LOVELIEST PEOPLE LIVE IN THIS QUAINT, UNSPOILED BEAUTY
---