Palmerston Bimble

Beez Neez now Chy Whella
Big Bear and Pepe Millard
Sat 19 Oct 2013 21:57
A Bimble Around Palmerston
After lunch, Metz showed along the very neatly swept paths (done every Saturday, to be tidy for Sunday).
What a beauty.
First stop was at Simon's on the other side of the island to see Ri Ri. Very sobering to see what happens in half an hour (2011).
Her engine still purrs and Simon is going to rig it as a lathe.
A quick look up and down the beach, the pictures cannot show just how windy it was here.
Next stop was the 'other' graveyard. It's very much a ranking system as to which line of mothers you come from, regarding first, second and third wives of William Marsters. The 'first' graveyard (own blog) is outside Bill and Metz's house, this one Matavia – third wife – is supposed to be buried here, far left. with some of her children.
On to the lovely school.
We found Rose doing Martha's hair. She looks so much better than her grey self on Beez yesterday.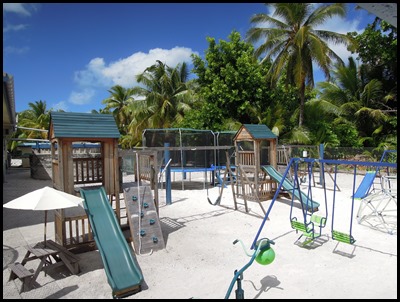 One of the well appointed classrooms, the playground........
......................and the preferred outdoor classroom.
On to meet Yvonne (the school principal), her stunning house and the original, now rented out to sea-weary yachties and visitors. Yvonne married a Marsters and loves the island.
The beach here looks out to the far end, very dull sky now, rain threatening.
Next up was another real beauty.
Back to the cute little church, time for a cuppa.
Not before admiring the yacht club.
ALL IN ALL A LOVELY ISLAND BUT NOT FOR ME, JUST TOO SMALL
SURPRISINGLY WELL PRESENTED
---