Gentle Spuddle

Beez Neez now Chy Whella
Big Bear and Pepe Millard
Sat 5 Mar 2016 23:57
Well, this morning our aches ached. Things that had never hurt before groaned at every small movement. I guess at our age we shouldn't really try to pull ourselves up on our fingertips. That wasn't as bad as trying to get my foot up behind my head in a single step........ Never again are we to risk such nonsense. I'll write that in the ship's log. Spuddle time was very amusing, it took some time to climb our indoor stairs, the big one in the cockpit and out onto the stern platform. Bear half fell into Baby Beez and I simply landed in a heap. Off for some very slow rock watching.
The far corner of Refuge Bay. On the left a very flat-bottomed lady who sits happily on the beach at low tide.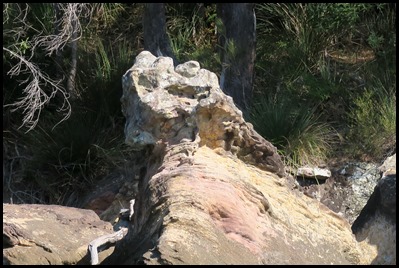 I named these Tarkus and Sasha. I'm saying nothing. After beating me five nil last night I should stay very silent, sir.....
This chap marked the next bend.
We spuddled along the edge.
Just two ladies, the one on the right.........could it be..............
Well, colour me happy, a 'One Careful Owner', who'd have thought it.
I needed another big rock to still my beating heart.
Back to Beez, enough excitement for a rest day. Time for a gentle swim off the back, a few games – revenge if I can muster it. Salad for supper as I don't feel like saddling up the cooker. Just the painful bit of hauling ourselves out of Baby Beez.
ALL IN ALL A BEAUTIFUL SUNNY DAY
NICE TO DO SOMETHING LESS STRENUOUS
---