Chores and Bimble

Beez Neez now Chy Whella
Big Bear and Pepe Millard
Mon 14 Oct 2013 22:57
Monday - A Good Day for Chores and a Little Bimble
An egg event, a great start to a new week.
We jumped up bright and early this morning to a list of chores, but first, the skipper went to log us in. He came back with Pepe, a sour man, who clearly didn't want to come aboard to do the Biosecurity check – that is – to look in my fridge. Bear had admitted to having limes for his rum and so the burly man came. I had been told by another yachtie that my tomatoes would be checked for "quality" and thought nothing more about it. I should have gone on-line and checked for myself. The Cook Islands, like New Zealand are strict about no fruit and veg being brought in. Despite my bulled-to-parade-standard toms, I received a stern look and a booming warning "I could fine you, but I'll let you off." Ooooooooooooo err, later we looked it up, could have been two thousand five hundred pounds............ Lesson learned. Very sad to see my shiny toms herded into a bag with Bears limes and my little bit of cabbage, midst many tut-tuts.
Now Pepe means 'God will increase' – I do hope He will consider increasing my namesakes humour, even just a tad, Lord, would be a very welcome gesture ???
That put me in the mood to take it out on the sea berth toilet which was scrubbed to within and inch of its life. The captain then asked me to get about my once a month syphon duty. We have a diesel leak, the whole collecting bath under the engine was full. Nothing for it but to wait until we get to New Zealand. The job and chore list for the girl is now getting quite long, but, she has had a very long season and badly needs a rest and some serious TLC. Back to the task in hand, Bear, once again laying on the floor at my feet, stuck his syphon tube in the well. I stood over him, pump in hand. Hang on a minute, with such a tiny tube, I could be here until tomorrow AND I've got diesel on my fingers. Oh dear, what a shame. Steady, I don't think you are in the position to be mouthing me, bearing in mind where my left foot is located, in very close proximity to certain jewels.......... OK I'll get a bigger pipe, huuuuuuh. Thank you. Would you like to lay down and hold the pipe and I'll pump, oh silth like one. Yes please, no need to be lippy. You are entirely welcome fair maid. That was it.....
Have you ever seen anyone with a diesel-wet piece of kitchen towel shove it with such force into the nearest orifice.
Bear has.
Scarper Bear, Scarper.
We sat and watched a racing trimaran come in on outboard engine. This is the second season in the Pacific for this Austrian couple. Ray at the helm, moved in impressively and found a spot away to our right. Losing at backgammon over lunch, well I needed a bimble.
Off in Baby Beez, we looked back at Beez and realised we had performed a nifty bit of double anchoring.
We had seen this gem opposite St Joseph's yesterday and went for a closer look.
Looking in, straight to the finals of this years 'One Careful Owner', if only for the laid table.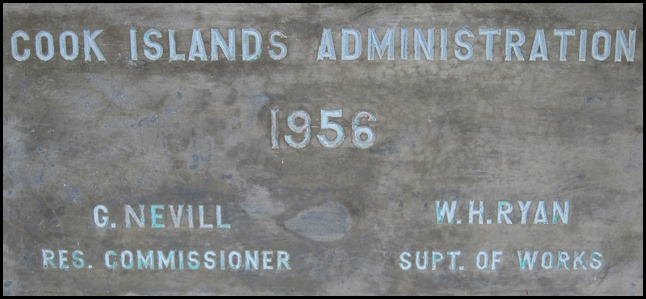 Next to the bank.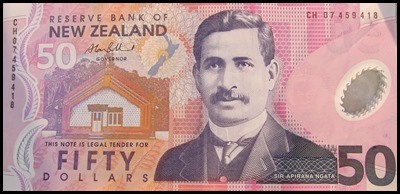 New Zealand money. This NZ$50 is worth twenty five pounds and ninety nine pence.
The NZ$20 is worth ten pounds and forty pence.
Standing by the bank looking across to St Joseph's.
Looking right up the hill.
Great sign. Looking forward to a 'Walkabout' tomorrow.
Walking back to Baby Beez we saw the sailing academy.
In an abandoned shed behind the sailing academy – a real beauty, remember these ???, perhaps another finalist. The One Careful Owner account has been richly opened on this island. Very much looking forward to a full exploration tomorrow, if today is anything to go by could be a real wow.
Back at Baby Beez, we collected all the empty diesel cans, one big petrol can and two small ones. We both tied our piles of cans to our respective trollies and all went well to begin with. Then the skipper had a parting of the ways. Well you're OK, you have the elastic straps. Tough you do proper knots. You tied mine - badly. Never blame someone when you haven't checked yourself. Growllllllllllllllll. Don't you growl at me.
With that, he growled once more, picked the whole lot up and strode forward. I was utterly helpless and made the few passing motorists and pedestrians fall about with me. Just as well the petrol station is close, by the man in blue. Turned out, he saw us approaching, or rather heard the growling and looked up. Guessing we were yachties, he asked us if we would mind taking an outboard engine with us to Palmerston. This is a regular thing to get stuff taken to the next island. No problem. He then said it was a twenty five horse power, Oh not small then. Oh well, we asked him to bring it by on Wednesday. I was looking at the fruit and veg outside the door, watermelon at seven pounds, cabbage at four and big, long cucumbers, a bargain at fifty pence. Blue shirt was very useful at this point when he told us that no fruit and veg can be carried between the islands. That's a new one on us, usually you can within a group. "No, it's the Asian fly they are twitchy about." Very good to know. I do not want a repeat performance of officialdom going psycho on me.
The little shop in the petrol station featured a nicely named tequila, right next to you-know-what. At twenty five pounds a bottle, the Baileys price has dropped since French Polynesia. We paid the lovely lady, who asked us all sorts of questions about our life at sea. Diesel and petrol were both NZ$ 2.60 a litre, we went off with a combined two hundred and two litres.
A new number plate to our collection.
It took three journeys back and forth to get the full cans to Baby Beez. Time enough to have a close look at this hard working girl.
A long liner. Loved the home made throttle cover and the carefully owned kettle.
Indeed a nifty bit of parking. Between low and high tide we bobble from fifteen inches below to the princely sum of three feet. Back aboard with all the cans, Bear put their jackets on and tied them in place. I had a go at the front railings with metal polish for an hour. Both now exhausted it was time for a sun downer and a game or two. I was beaten hollow at backgammon, got my revenge at Upword and thrashed good money out of the captain over three games of Rummikub. Shower and supper over a good film.
ALL IN ALL A PRODUCTIVE DAY
THE CREW PUT IN A SPLENDID EFFORT, I FELT
STEADY
OK, OK
SSLLLAAAAPPPPP
OUCH, GOODNIGHT
---