Family Tuihani

Beez Neez now Chy Whella
Big Bear and Pepe Millard
Sun 23 Jun 2013 22:59
Meeting the Family Tuihani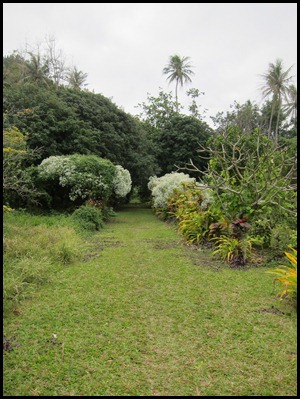 We left the church and followed the well kept path.
Looking back at St. Gabriel's.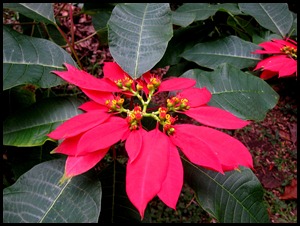 While we were admiring all the flowers when
Hervé
introduced himself and welcomed us as only French Polynesians can – full hearted and genuine.
Hervé
introduced us to his wife Valerie and sons Alan and Ariki. The family set up a table and chairs next to their beach and we settled to afternoon tea. This delightful setting is truly a corner of heaven. No noise or time affects this peace – when we looked out at the flat, calm sea, it's hard to picture escalators, big city lights and fast food restaurants. We left armed with pomelo, papaya, oranges to squeeze for breakfast juice in the morning and a handful of lady fingers (the little, tasty, sweet bananas) so good we ate four each for supper with the last of our French sticks. The family invited us back the next morning to gather our shopping list of vegetables and a cup of coffee at our new spot of heaven.
The skipper with his red hibiscus over his left ear – showing he is married or 'spoken for' (the right ear is worn for single folks). Ariki had a 'Bear Hug' and Alan posed with dad
Hervé
.
The family. Ariki (named after
Hervés
grandfather who lived here too), Valerie, Alan (named after Valeries mum Allan) and
Hervé
.
We posed too.
It was so hard to say farewell.
We went back to Beez with yams, sweet potatoes, limes, haricot beans and a hand of lady fingers. We dunked the bananas in the sea to rid them of ants and creepy crawlies – there was a little gecko looking shocked after his salt water bath.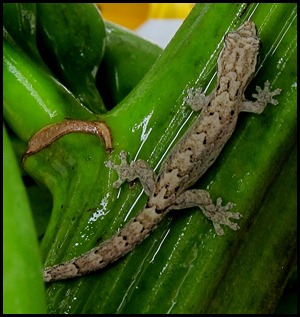 He nosed about and 'our little miracle' – Lemmy scampered up the string Bear hung the bananas on and gingerly explored his new home. We hope he has a long and happy life keeping Beez clear of ants and unwanted visitors.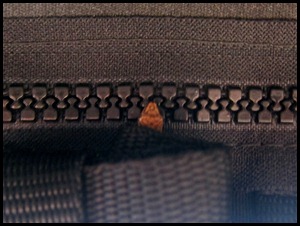 Don't ask, I didn't. Lemmy finds a new nest in the back door window straps. Lady fingers in their ripening position.
ALL IN ALL THE LOVELIEST FAMILY EVER
---