Back in the Swing

Beez Neez
Skipper and First Mate Millard (Big Bear and Pepe)
Sun 30 Sep 2018 22:57
Back in the Swing on Beez Neez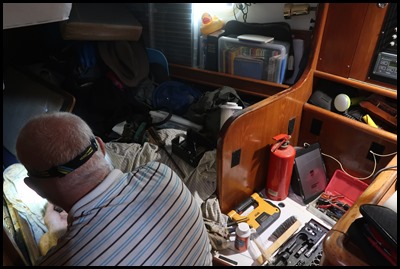 Thursday to today has been a whirlwind of activity akin to each of us being hamsters in an exercise wheel but, sometimes, trying to run in opposite directions or running together and a stick gets shoved in between the bars and we come to a crashing halt. Bear has been a busy boy fitting the 12 volt TV we brought back from the UK, new mains sockets, changed the seagull drinking water filter, sorted the kitchen red light fault, found the problem with the bow thruster. He has also been hard at work on Beez engine stripping and painting the back half of the engine. He has finished adding the new alternator system with parts we brought back and fitted the ventilation pipe tubing from the engine as far as the back lazarette (to be finished next week). I have been lining cupboards, sorting 'stuff', cleaning and finally saddling up the sander and sandpaper. I know I said never, never again after Bear dropped this spanner and dented my just finished cockpit combing. But, needs must..........
The bits that didn't go at all well......... Bear finding that the bow thruster battery was deceased and whilst putting the two little stainless steel clam shells on the anchor drain points(near the girls nose), each held on by three screws – he chipped Beez paint with one of the screws. Let's hope next week brings no bad events....... we'll see.
This evening on Pontoon 1.
We arrived for the 'get together' and met up with old friends and met loads of new yachties. There were so many of us there was a distinct dip, so much so, it was an incline to walk either way. I met Marie, a New Zealander who is a hairdresser and they are coming in from the anchorage on to this very pontoon, no more excuses for not having my hair chopped off, something I have long been vacillating over.
ALL IN ALL MIGHT NEED STABILISERS BACK ON MY BIKE
GOOD TO GET STARTED BUT NEEDS TO GET SMOOTHER
---