Lunch at Rolands

Beez Neez
Skipper and First Mate Millard (Big Bear and Pepe)
Thu 24 Jan 2013 16:03
Our Lunch Experience at Roland's, Manchioneel Bay, Providencia, Colombia
Joel, our snorkel guide had told us that to lunch with Roland was an experience. Nothing for it but to point our trusty chariot left off the main road and head for Manchioneel Bay. Parking amongst trees of the same name we found this Reggae Restaurant that could grace any beachfront on Jamaica.
The man himself raised slowly from the depths of his deep hammock to welcome us warmly. He took our drink orders and told us to go for a swim and relax as "fresh fish due in". Back came two Cuba Libres that made the boys wince, I took a sip of my vodka and coke and needed a further two cans of coke to get to a palatable level. Bear asked how local this brew was and did Roland make it himself. "No, my friend next door" with a wry smile.
Roland was born in the house behind the restaurant. We saw no reason for him to ever move – stunning
Until someone swung into my frame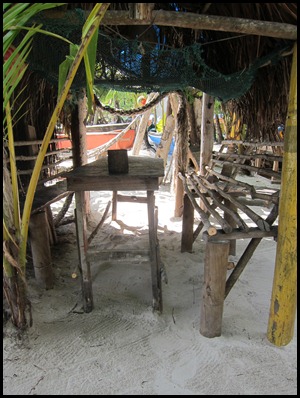 Through the rustic chairs and tables we saw lunch arrive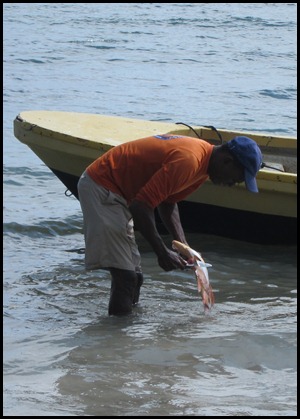 It couldn't be any fresher as we watched the cleaning and fileting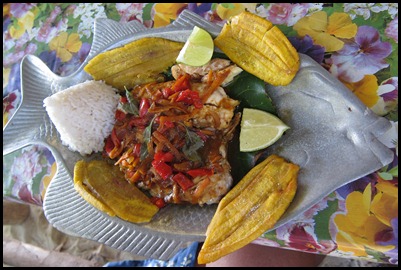 Three specials and my plain fried shrimp – delicious
Our bill came personally in 'ledger' form. Roland is happy to collect in his benched truck, complete with hood for when it rains.....
......which it did shortly after we left, the pilot had to stop as visibility was reduced and we were getting wet in the back
Later we saw this lovely man in town, all greetings and smiles.
ALL IN ALL A UNIQUE CULINARY EXPERIENCE
DEFINITELY NOT TO BE MISSED
---