Too Darn Hot

Where Next?
Bob Williams
Fri 25 Jan 2019 06:39
Position: 35 47.24 S 137 46.46 E
At anchor, American River
Wind: SE, F3 – gentle breeze
Sea: calm Swell: Nil
Weather: overcast, mild
Yesterday, as much of South Australia set new records for maximum temperatures, the crew on board Sylph, without the aids of modern conveniences, focused on keeping their cool, though I did manage to complete and overdue oil change on the BRM in the forenoon before it got too hot. Fortunately, being on the water helped keep the temperatures down and Sylph's crew were glad that they were not in Adelaide where it got up to a record 46.6 degrees, and no doubt like many South Australians grateful for the cool change that came through at midnight.
Today we have completed a few boat chores, a highlight of which was Kate learning to use Sylph's climbing system to climb up to the spreaders and down again. She is now qualified to climb aloft alongside. We may progress on to climbing aloft at sea on our passage down to Robe, which, by the way, we will be departing for tomorrow.
All is well.
Sunset over Eastern Cove:
Cleaning the hull:
American River entrance: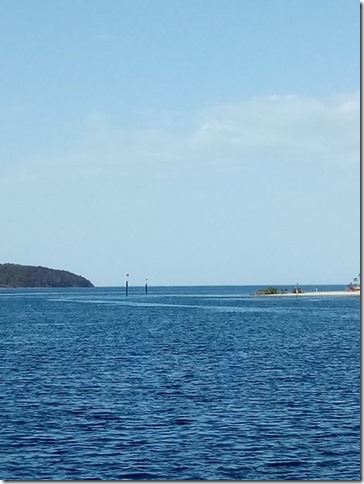 Kate climbing to the spreaders:
---