Weekly Progress Report 28 – Some thing tangible

Where Next?
Bob Williams
Sun 13 Sep 2020 06:56
This week, as I was hoping, we have made some tangible progress in getting Sylph's saloon back together. Cupboards and settees are taking shape and I have installed a stainless-steel heater surround to protect the timberwork from the heater.
We wanted to use some local New Zealand timbers as part of the refit in the way of a memento of our visit and to add a little interest to Sylph's interior. We have chosen Rimu heartwood which we think complements the existing New Guinea Rosewood lining, as well as being attractive with it light and variable grain. Additionally, I am using some scraps of mahogany and teak that I have been carrying around for years now. I just hate throwing out nice timber; consequently, Sylph's interior is a bit of a hodgepodge of various timbers and styles but I figure this just reflects her long and eclectic history with each piece of furniture telling a little bit of her story.
Foot locker at end of new port settee (Rimu heartwood):
Locker above (more Rimu):
And bookshelf behind (recycled mahogany):
The 'electrical corner' almost complete (Rimu to the left, Rosewood to the right):
New corner to the engine box seat:
I made this teak radius by hand out of the end of the old table. While it is a little at odds with the mahogany rails, I didn't want to waste good timber and am actually pretty happy with the result. The teak corner post below the radius was also salvaged from the old table.
It's all more or less coming together: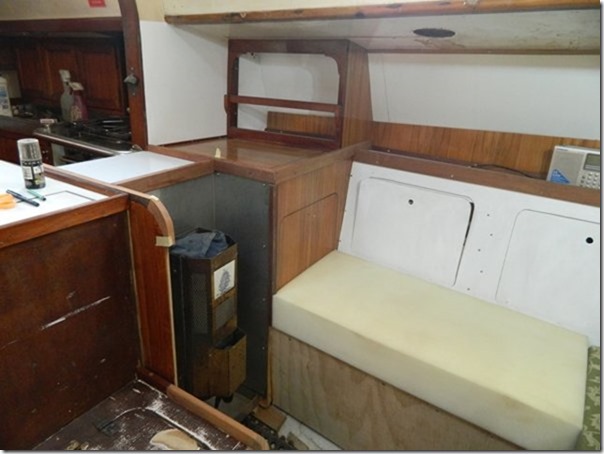 Meanwhile, on the outside, I have welded up the hole in the coach house roof where the heater chimney used to be:
and continued fairing a few small hollows that remain in the topsides.
We are definitely getting a lot closer to the end of this refit.
All is well.
---