Progress Report 4

Where Next?
Bob Williams
Sun 29 Mar 2020 08:19
I have not achieved as much as I would have liked this week; however, we continue to make progress. As most are no doubt aware, New Zealand has gone into lock-down as a result of the coronavirus.

Fortunately, this has not affected us too badly. As live-aboards we have been allowed to remain on Sylph in the yard and continue work, whereas non-live-aboards have to stay at home. On the downside the fuel tanks and the intermediate prop shaft will not be ready for a minimum of four weeks. I have adjusted Sylph's refit plan and have plenty of other work to do, so I don't think the lock-down should delay our completion date by too much provided services come back online at the end of four weeks.
Work completed over the last week includes de-rusting the bilges under and aft of the fuel tanks, cutting out some rusty steel, welding in new sections, and replacing some struts that hold up the beams supporting the cabin sole. And the stove/oven is back in and operational. Now all that remains to complete the galley is to build a new locker under the oven.
And while I have been busy working on Sylph, Kate, in addition to helping me, has bought herself a small Daihatsu truck with a mobile home on the back. We thought this was a wise contingency plan in case we were required to vacate the yard, as well as providing an alternative living area for when Sylph becomes uninhabitable. It also gives Kate and Oli somewhere to go when I am making a hell of a mess inside Sylph.
This coming week my main goal is to have the bilges painted out. Once that is done, I will shift my focus for'ard and attend to some rust in the V-berth area.
All is well.
Sylph's galley, almost complete:
A sample of some cutting out and welding in (clearly the cabin sole beam has caused a problem):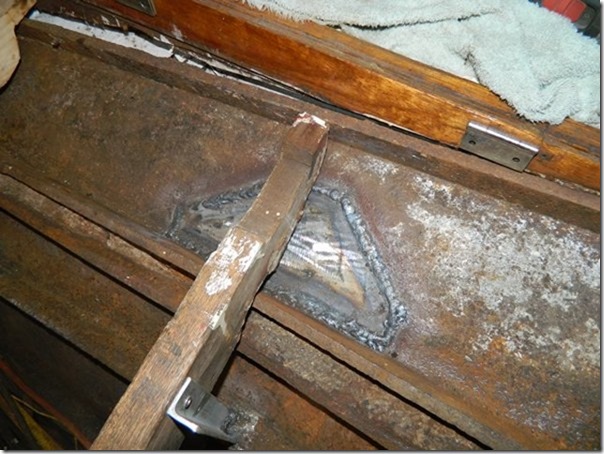 From the outside:
New struts to support cabin sole beams:
Kate's truck:
The truck galley:
Oli making himself at home:
---