Weekly Progress Report 14

Where Next?
Bob Williams
Sun 7 Jun 2020 06:08
Another major milestone has been achieved this week – the fuel tanks are back in the bilge, though they have yet to be fully fitted. It feels good to be putting the boat back together as opposed to tearing it apart. We are not quite over the 'hump', but I think we are getting close. Other achievements have been getting most of the bilge pumps reconnected. I am waiting on All Marine to get some more bilge hose in to finish this task off. The new tiller post has been fitted and the lid on the water tank is back on. Kate has been sanding the outside down ready for some fibreglass and paint.
A minor setback has been the hull on the port side. I had thought that I had removed all the rust and repaired all the holes but when I returned to this job this week I found a couple of more holes that had to be cut out and new steel welded in. I completed this task today so hopefully in the coming week I will finish refurbishing the port side of the hull and get some paint on it ready for some new furniture.
Bilge without fuel tanks:
Bilge with fuel tanks:
New tiller post fitted to rudder head:
Kate after sanding the water tank with its lid on – Oli inspecting: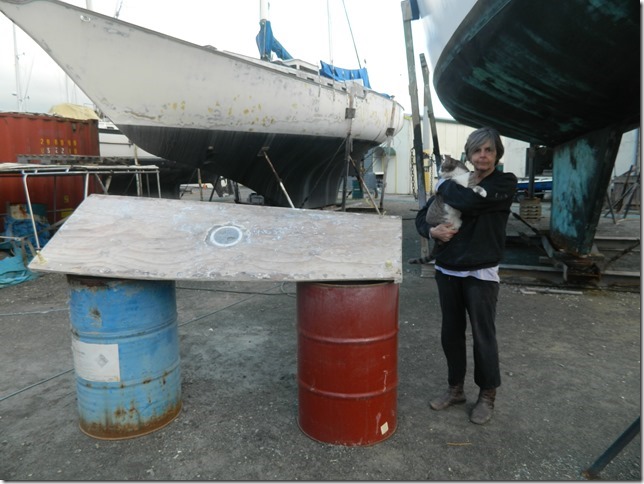 All is well.
---