WPR 35 (Final) – Refit Complete

Where Next?
Bob Williams
Sun 1 Nov 2020 00:09
On Friday Sylph was at long last lifted from the cradle she had spent the better part of eight months resting her keel upon and returned to the element she was created for. Once afloat, we warped her from the travel lift to the dock where I spent the best part of the afternoon bringing the engine back online. The fuel system took quite a while to bleed the air out from the injection pump to the injectors but, eventually, after cranking the engine over for several minutes, spread out over an hour or two to conserve batteries and the starter motor, the BRM sprang into life. There remain some electrical problems. Neither the tacho nor the hour meter are working so I need to do some additional fault finding to bring them back to life. In the evening we hosted a small celebratory relaunch party where we were able to show our NZ friends the results of work of the last several months.
Saturday was spent transferring stores from the truck to Sylph and generally trying to get things organised. And this morning, as a finishing touch, we transferred Oli back on board and then proceeded to anchor off Kissing Point. The car has been sold and Kate's truck in on the market. Our plan from here is to spend the week at anchor to ensure Sylph and crew are seaworthy then to continue south.
Photos:
Sylph on her way back to the sea:
Oli at home once more:
Pete's bell mounted at last: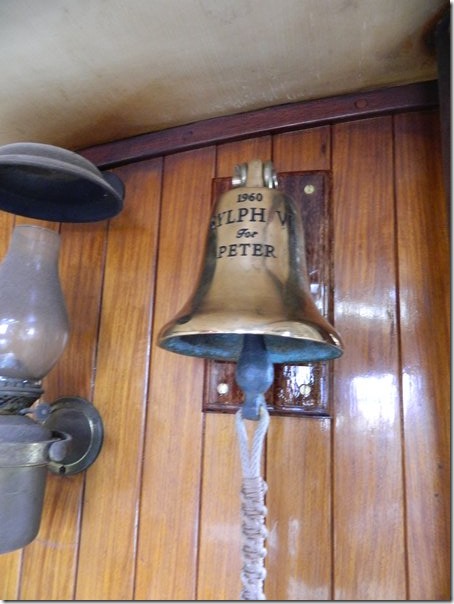 And Sylph resting at anchor, impatient for the next adventure:
All is well.
---