WPR 29 – Bright Work

Where Next?
Bob Williams
Sun 20 Sep 2020 06:40
Most of the week has been spent working on the fiddly mahogany trim and starting on the varnishing. All very time consuming.
One major job mostly completed has been the manufacture and installation of a new table leg. This consists of a long piece of steel pipe that sits inside another shorter piece of steel pipe that I have welded and bolted to the hull. To the top of the longer piece I have welded up a bracket to which the table top will be attached. It all seems to be working so far.
Table leg base:
Table leg: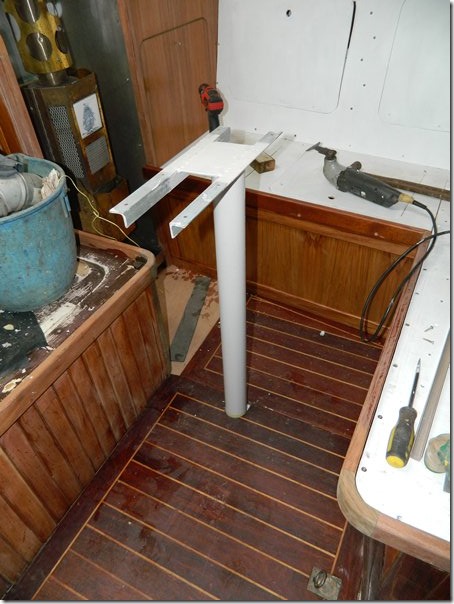 With a rough bit of ply on top just to make sure it is going to work:
Another small job completed has been to cut a new hole in the coach house roof for the heater chimney. Now that's done Kate can get on with painting the coach house.
This coming week we will hopefully finish the bright work down below and move on back to the galley area where a potato locker and dish stowage needs to be made. Also, we have a local shipwright who is passionate about his timbers on the prowl for a nice piece of local New Zealand wood that can be turned into an attractive table.
Where the dish rack will go: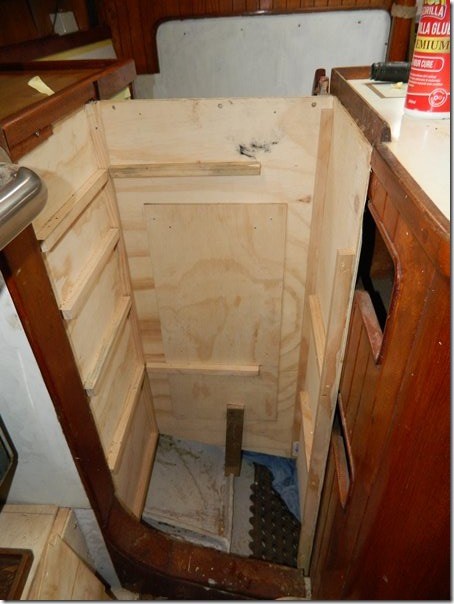 All is well.
---