A Hike

Where Next?
Bob Williams
Mon 16 Nov 2020 06:31
At anchor Kaiawaara Bay, Great Barrier Island
Wind: W F2. Sea calm. Swell nil. Weather: Mostly sunny
Today we gave our legs a good work out with a two-and-a-half-hour hike to Kaiawaara Dam, and two-and-a-half-hours back. We learnt from a sign at the dam ruins that it was built during the Kauri logging days in the late 19th/early 20th century and was used to flush the logs down the stream into the bay where they would be built up into rafts and towed to a timber mill on the mainland. While the skills of the hardy bushmen that worked in these forests have to be acknowledged, it is hard to accept that with only axes and muscle power (human and animal), they cut down 99% of all the beautiful Kauri trees in the whole of New Zealand. I am tempted to launch into a tirade against neoliberal ideology that continues to dominate our economic thinking, but I know that it would change nobody's mind so instead will leave you with just a few photos that Kate took on our hike.
Landing on the beach: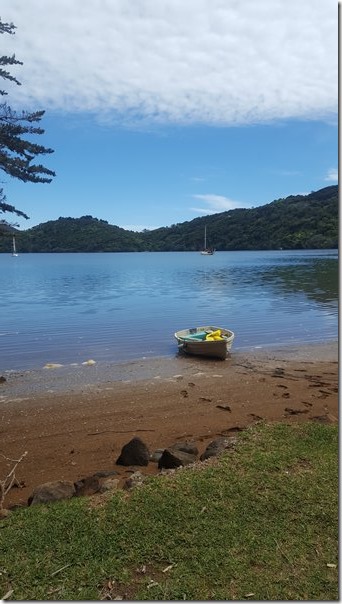 The head of Kaiawaara Bay and the mouth of the stream:
Looking back towards Sylph at anchor:
Crossing one of the many suspension bridges:
The dam ruins. These logs represent just the foundation of a much larger structure: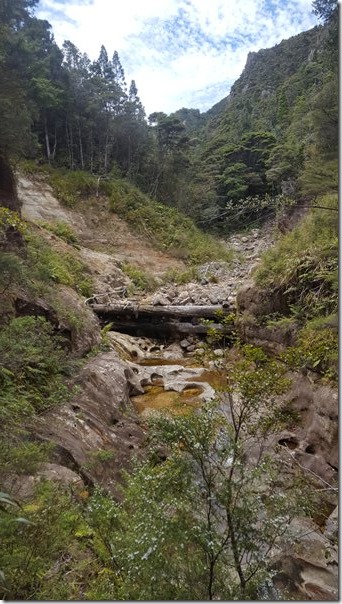 Hiking back – all downhill from here:
Cooling our heels on the return journey. The pool made for an icy refreshing dip:
All is well.


---