Inclination Test Complete

Where Next?
Bob Williams
Tue 12 Sep 2023 07:11
Position: Moored Rushcutters Bay, Port Jackson
Wind: N, F1
Sea: calm Swell: nil
Weather: mostly sunny, warm
I am very pleased to report that this morning Sylph at last underwent her inclination test, a major milestone towards making it to the Sydney to Hobart start line. The measurer, David Kellett, advised me that the stability certificate should be completed in a few days. I will take great pleasure in uploading this document into the CYCA Sydney to Hobart race entry web page (assuming of course that Sylph meets the stability requirements).
It has been a lot of work emptying Sylph out in preparation for the test and now I have the task ahead of me of putting most everything back on board again. I will try hard here to reduce the number of 'just-in-case' items that inevitable get added to a long-haul cruising boat's inventory. Hopefully we will be able to reduce Sylph's weight a little and get her more into racing trim.
This morning Oli had to spend a few hours on Chris and Marie's boat for the duration of the test, which I don't think he was particularly impressed with. I am sure he will be happy to have Sylph returned to some semblance of normality again. I know I will.
All is well.
Preparing for the inclination test in the CYCA pond.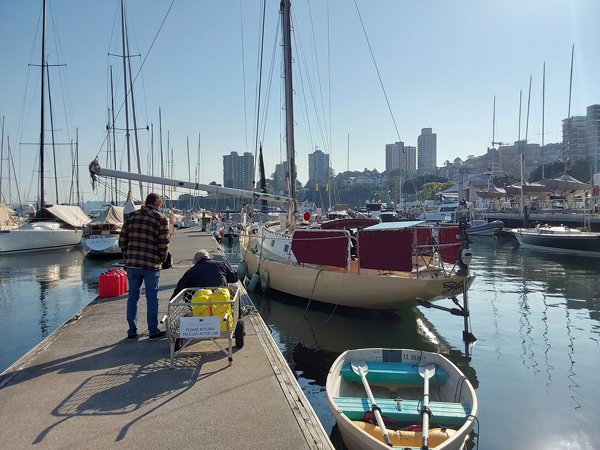 ---