St John's & Engine Parts

Where Next?
Bob Williams
Fri 3 Aug 2007 00:03
Position: Alongside St John's Harbor
It seems that we have successfully located the engine parts we need, the engine mounts are being sourced locally and the flexible coupling has been located by the home base team back in Annapolis, which a new crewmember, Max, will bring up on Sunday. So if all goes well we will have the engine operational again on Monday (fingers crossed) and will sail Tuesday to find our iceberg.
I was hoping to pick up the engine mounts today but it seems that St John's is shut down for their annual Regatta Day, but I did happen into a small shop-front for the Conservation Corps and met with their Public Education and Outreach Coordinator, Krista House. The mandate of the Conservation Corps is to provide young people with meaningful work experience and training in the areas of environmental and cultural heritage enhancement and conservation. Unfortunately Krista was very busy with the running of their summer Green Team Program so our opportunity to exchange notes was limited, nonetheless a rewarding chance encounter (see www.conservationcorps.nf.ca for more info).
And here is a photo of the Narrows, the entrance to St. Johns Harbor, with Sylph and another boat berthed in the foreground, which I took yesterday evening.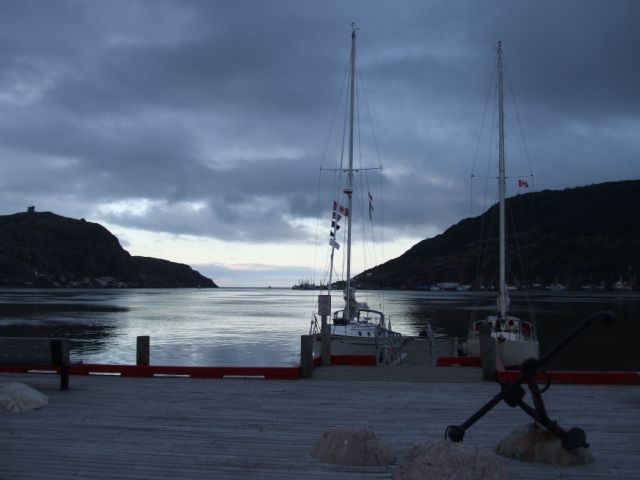 ---