One last day in the BOI

Where Next?
Bob Williams
Sat 1 Feb 2020 04:27
Position: 35 12.58 S 174 13.21 E
At anchor in Waewaetorea Passage off Urupukapuka Island
Wind: N F2 light air
Sea: calm Swell: negligible
Weather: sunny, warm
Thursday, we sailed and motored back the Bay of Islands Marina in Opua to offload rubbish and top up water. Then we motored half a mile up Waikare Inlet and anchored nearby the mooring that New Zealand Maid was on. In the evening we enjoyed dinner on board the Maid with Jon and Barbara, likely our last opportunity to do so while in the BOI area.
Friday, we motored to Russell to anchor off for a few hours to do some laundry and top up a few essential supplies. Once these chores were done we sailed to Moturohia Island for the evening.
This morning, after a quick dip over the side, as I was weighing anchor I was greeted by a white bearded gentleman in an inflatable dinghy asking whether Sylph was an Alan Payne design. I was able to confirm this to be so and was cheered up quite a bit by this anonymous stranger's compliment as to Sylph's appearance. Such unsolicited compliments go a long way towards motivating me to continue putting time and effort into maintaining such an old steel boat as Sylph, especially timely as we are about to enter an extended maintenance period and no doubt many long days of hard yakka.
Now we have sailed to another bay on the north side of Urupukapuka Island recommended by Jon and Barbara. The water is very clear here so after a row ashore and a hike we enjoyed a short snorkel around the bay's rocky shoreline.
Tomorrow we will start making tracks for Whangarei. It is only seventy miles away and we have a week to get there so we are planning on making it in short day hops visiting some more bays recommended by Jon and Barbara along the way.
All is well.
Some photos:
A fellow traveller, Carola from San Francisco:
Sylph at anchor off Urupukapuka Island: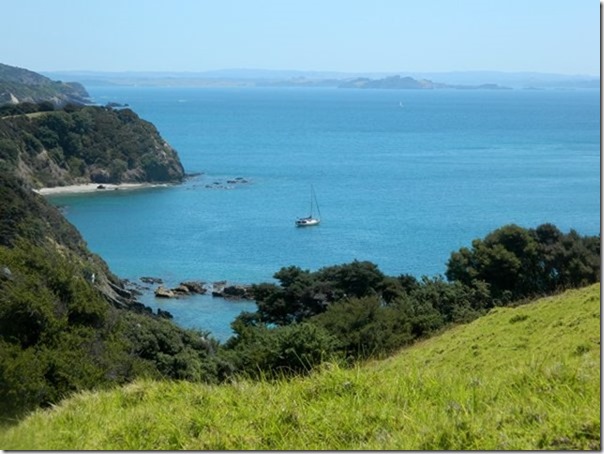 Waewaetorea Passage:
A narrow gorge in Urupukapuka's rugged coastline:
Some plastic Kate and I collected from the beach (Kate is a very determined collector of plastic rubbish):
---