Arrived Port Jackson (Sydney)

Where Next?
Bob Williams
Sat 28 Jul 2012 23:30
Position: 33 52.26 S 151 14.03 E
Moored Rushcutters Bay, Sydney
Wind: South-west F1 light air
Weather: sunny, mild
Day's run: 110 nm
We enjoyed another good day's run yesterday with the wind mostly from the south-west, the skies were clear and the seas were mild, though the swell again caused some grief around sunset last night when the wind dropped off and the sails started slatting noisily, but a few hours later the wind picked up again such that we were under reduced sail for most of the night.
This morning we were off Sydney Heads at around 6.30 and had a very pleasant early morning sail up the Harbour and into Rushcutters Bay, where we picked up a mooring adjacent my sailing club, the RAN Sailing Association.
Bacon and eggs for breakfast, now it is time to catch up on some sleep.
All is well.
Passing Jervis Bay yesterday afternoon:
Sunrise entry into Sydney Harbour:
The Opera House:
And of course the old "Coathanger":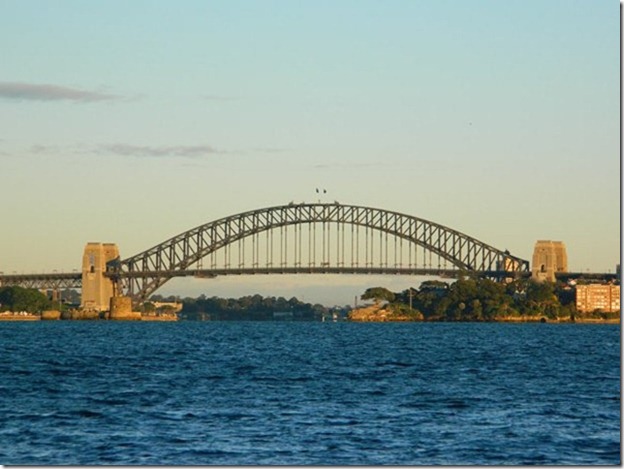 ---