Port Denison, Bowen - with photos

Where Next?
Bob Williams
Sun 15 Sep 2013 09:17
Position: 20 01.39 S 148 15.47 E
At anchor, Port Denison
Wind North east F2 light air
Sea: calm, Swell: nil
Weather: clear, warm
Day's run: 20 Nm
We weighed and drifted from anchor at just after ten this morning, sailed part way, and motored the other part of the three miles to Gloucester Passage, between Gloucester Island and the mainland. En route we were overtaken by our neighbour from Grassy Island, who passed close by and took up station off our port quarter so we could have a short gam. The boat's name is Clair de Lune, built in England in 1959, so a year older than Sylph, teak on oregon, and very nice. The owners, hmm, a guy and his Chinese wife. Unfortunately we didn't exchange much in the way of personal particulars, but we are heading in the same direction so with a little luck will share another anchorage down the track and find out a bit more about each other.
Once I had started Sylph's engine we soon overtook Clair de Lune, who only had a headsail up and was motoring at low revs. We popped out of the Gloucester Passage slightly ahead of them and once clear of the island found a nice breeze that allowed us to shut down the engine and to close reach our way to another passage, a further nine miles on, this one being the north entrance into Port Denison, which serves the town of Bowen.
At two this afternoon we rounded up into the wind just off the boat harbour entrance, handed sail and let go the anchor. After a bit of a tidy up, including a shower and a change of clothes for myself, I got the dinghy in the water, and, because the boat harbour was about three hundred meters away, I broke out Sylphide's rig so we could go ashore under sail.
Well I have visited the local yacht club and wondered around town a bit. Being a Sunday everything is very quiet, but it was nice to stretch the legs.
Now for dinner. I have the glass of red, but still missing the other bit, which I suspect might take a little longer to rectify. No hurry, the peace and serenity of solitude definitely has its up side.
All is well
Last night's anchorage:
Drifting towards Gloucester Passage: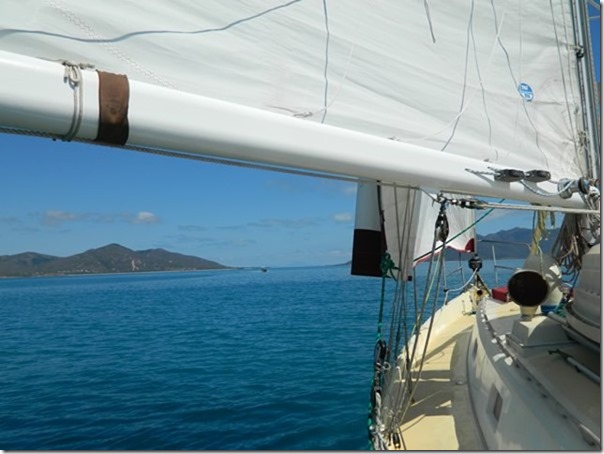 Clair de Lune:
---