An even shorter sail

Where Next?
Bob Williams
Thu 29 Aug 2013 08:48
Position: 27 0.69 S 153 22.11 E
At anchor, off Tangalooma, Moreton Island
Wind: South sou' west F3 gentle breeze
Weather: sunny, mild
Day's run: 10 Nm
Overnight the wind turned into the south which brought a small sea into the anchorage, nothing to worry about, but nonetheless it made conditions less than ideal, so, after breakfast, I weighed anchored and sailed north a few miles, with the wind behind us for a change, up into the narrow channel that leads to, and beyond, the Tangalooma resort to anchor behind the wrecks on the sand bar. The wrecks are old dredgers that were placed here many years ago to provide boats with a little extra shelter, plus they make great artificial reefs and attract lot of marine life, consequently they also attract a lot of human life, mostly in the form of snorkelers from the resort.
I even managed to get off the boat for a jog/walk along the beach this evening.
All is well.
Approaching Tangalooma:
A ferry approaching Tangalooma: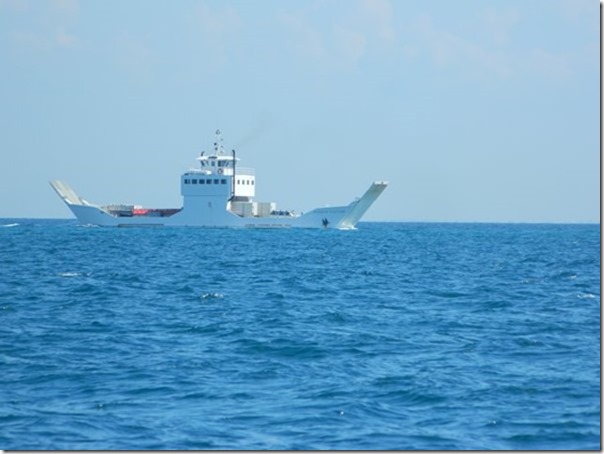 And hitting it:
Some study en route:
RC doing his thing en route:
Approaching the anchorage:
Getting closer:
Passing the wrecks:
At anchor:
---