Whangamumu Harbour (with photos)

Where Next?
Bob Williams
Sun 2 Feb 2020 07:04
Position: 35 15.00 S 174 17.76 E
At anchor Whangamumu Harbour
Wind: light and variable
Sea: calm Swell: NE 0.5 m
Weather: sunny, warm
Day's run: 12 nm
This morning we weighed anchor and motored out through the narrow rock-strewn entrance of Waewaetorea Passage. Once clear, we turned into the light breeze, raised the mainsail, then, as we bore away to the NE, poled the jib to starboard. We were off, once more voyaging south.
However, we were not planning on going far today as we wanted to stop in Whangamumu Harbour, which was just as well as the winds have been light and fickle all day. Jon and Barbara had recommended Whangamumu Harbour and it looked appealing as a picturesque, well-sheltered bay that also contained the ruins of a whaling station from the early 1900s, which we thought might be interesting.
We motored between the precipitous cliffs of Otuwhanga and Motukokako Islands, with the hole in the vertical shores of Motukokako being particularly impressive. Once through the gap we tried sailing for a while but the winds were very light and Sylph drifted along at less than a knot. With our destination only a few miles away we once more resorted to motor and entered Whangamumu Harbour at 1300. Once settled at anchor, we rowed ashore to explore the whaling station ruins and for a quick refreshing dip from its pebbly beach.
More light winds are forecast for tomorrow but we will continue south and see where we end up.
All is well.
Approaching Cape Brett:
Motukokako Island: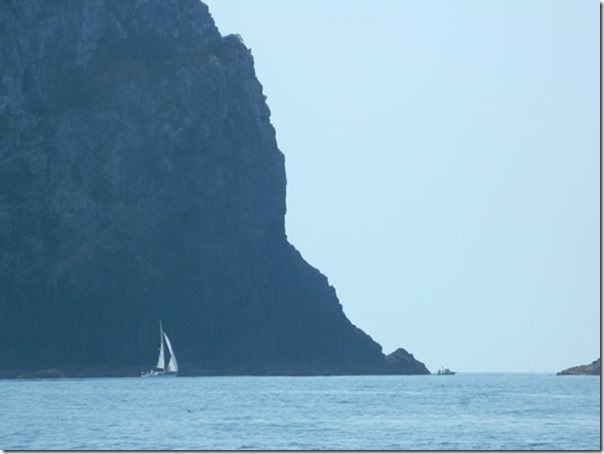 Cape Brett Light:
Motukokako Island from the other side:
The Whaling Station:
The tranquil Whangamumu Harbour:
---