Next Stop Townsville

Where Next?
Bob Williams
Tue 17 Sep 2013 09:48
1800 Position: 19 46.7 S 148 00.3 E
Course: North west Speed 4 knots
Wind North F3 light breeze
Sea: slight, Swell: negligible
Weather: clear, warm
Day's run: 33 Nm
Stores are in and the laundry has been done, so, with these rather dull but ever essential chores once more assuaged, this morning, with a light northerly blowing across the bay, we weighed anchor, set sail and shaped a course for the final leg of our current voyage. We have about seventy five miles to go but, until we round Cape Bowling Green and can bear away a little to the west, we have a head wind. We are approaching Cape Upstart which, if we do not want to run aground, we will have to tack around shortly. In all we will probably need to sail an additional thirty miles or so. Therefore at our current speed of four knots our ETA Townsville is late tomorrow night.
There is quite a bit of small boat traffic about, mostly fishing vessels I would think, so tonight could be quite a long one.
All is well.
A very large ship which we sailed past today: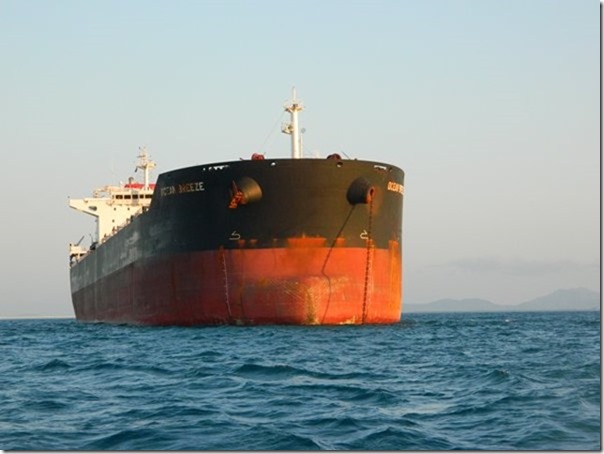 She is at anchor – I wouldn't normally get this close.
---