Fairy Land

Where Next?
Bob Williams
Sat 5 Oct 2013 12:19
Position: 16 55.58 S 145 57.36 E
At anchor Fitzroy Island
Wind: East, F3 light breeze
Sea: slight Swell: South east ½ m
Weather: sunny, warm.
Day's run: 43 Nm
The weather bureau promised ten to fifteen knot south east winds today. Despite this favourable prediction, as has become our custom of late, we waited until at least a puff of a morning breeze could be felt before weighing anchor. In this instance as the wind was coming directly in through the narrow entrance, and because the tide was flooding, and there was a sand bar only some twenty meters in the direction that the stream was flooding, I decided, rather then wait several hours for the stream to turn, to resort to that most modern of marvellous mechanical conveniences, the diesel engine, and motor clear of the harbour. At twenty past nine we were clear of the entrance and we set sail to the light nor' easterly (sic). It was slow progress. We were soon joined by Claire de Lune, who, not sharing my purist sailing streak, was motor sailing, so she soon overtook and hauled ahead of Sylph.
During the day the wind gradually filled in, though it never reached fifteen knots, except perhaps once as a refreshing rain shower passed over us. It has taken us ten hours to sail the forty miles to Fitzroy Island. We had decided to push on this far today because Peter is running out of tobacco, and neither of us want to see what a nicotine withdrawing Peter might look like when confined to a small boat with his, at times, rather intense older brother. The cruising guide advised us that there was a shop here, as well as a resort and a public bar. It seemed highly likely that there would also be cigarettes available. Despite this seemingly excellent logic, what I had not taken into account was Fitzroy Island's proximity to Cairns. When we rounded the southern headland of the island we were confronted with a fairy land of white lights. Countless anchor lights bobbed about in a long sting along the foreshore, like pearls on a necklace. As my ego felt no strong need to show off its sailing prowess in this dense pack of boats in the dark, I handed sail, started the Beta, and slowly nosed our way into the crowded anchorage. Peter stood at the bow, astutely waving the spotlight in the general direction of any hulls that were looming out of the darkness in our general path. Eventually we found a spot at the far north end of the beach, adjacent a rocky outcrop, in five meters of water with a modest amount of room where I felt we could comfortably swing to anchor without serious risk of bumping into someone else's boat.
While we could clearly hear the sounds of people partying in the resort bar, given the darkness of the hour, the limited swinging room, and the proximity of rocks, the search for a relief to Peter's addiction will have to wait until tomorrow. If we are successful we will probably stay tomorrow night, otherwise we will finish off the remaining twenty miles to Cairns.
All is well.
Claire de Lune:
Fitzroy Island Fairy Land:
A boat looming in the backscatter: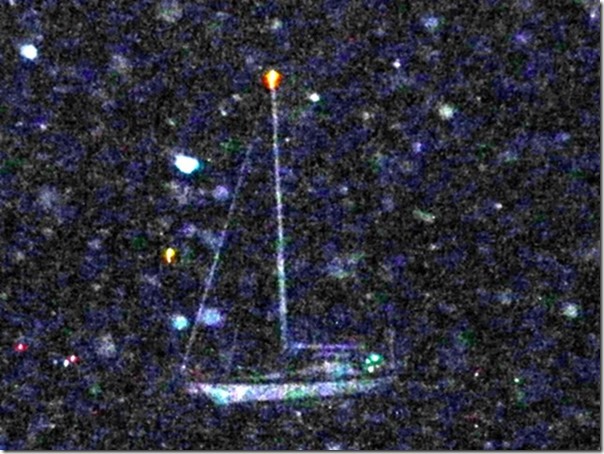 ---